Philips creates cinema aspect-ratio HD TV
Roll out the red carpet
Film fanatics rejoice, because Philips has premiered the world's first cinematically proportioned telly.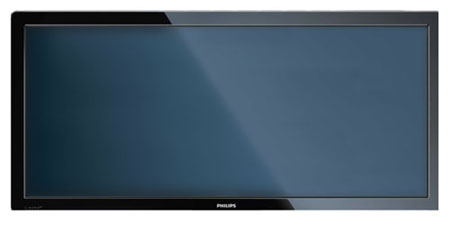 Philips' Cinema 21:9 TV
Many existing 52in HD TVs have a 16:9 aspect ratio, but Philips' similarly dimensioned movie monster has a 21:9 aspect ratio. This not only makes the screen look even more rectangular, but also ensures that films fill the entire screen without letterbox strips.
As a result, movies can be enjoyed "as the director intended", Philips claimed. Everyday telly and games will can be stretched or cropped to ensure it always feels like you're at the cinema - and, we hope, letterboxed.
The screen's complemented by Philips' established Ambilight lighting system. This fixe three lights behind the telly – on the left- and right-hand sides and on top – to project ambient glows onto the rear wall.
Colours change according to what's on screen. For example, an aura of red lights may appear during a gruesome murder, while a green glow would accompany actors walking through woods.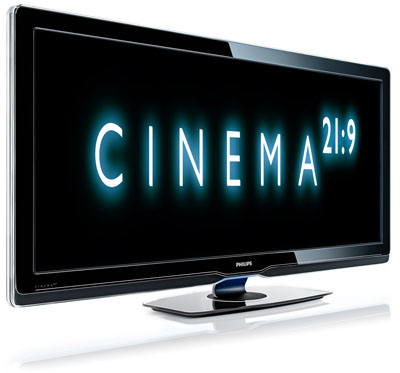 Eastenders and videogames are also displayed like films
It's worth noting that Ambilight is a fairly old technology. Philips' newer edition of the technology, Aurea, which doesn't feature on this model, adds the same lighting system into a TV's frame.
Philips' Cinema 21:9 TV will be available in the UK this Spring, but its full specifications and price haven't been announced yet. It doesn't come with popcorn, though. ®