Nokia 6600 Slide 3G mobile phone
Smooth with a capital 'smooth'
Review While Nokia continues to trundle out heavyweight smartphones like the N96 and N85, it's also taking care of business down-market with models like the 6600 Slide.
Rather than majoring on top-of-the-line, do-it-all gadgetry, the 6600 Slide is a 3G-enabled slider that's more likely to gladden potential buyers with its smooth looks and solid basics.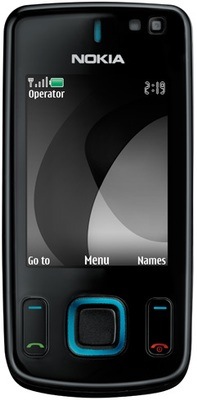 Nokia's 6600 Slide: smooth looks
It does have a decent enough spread of features, with a 3.2Mp camera on the back and all the multimedia functionality you'd hope for in a mid-range Nokia phone. However, it lacks high-speed HSDPA and Wi-Fi data connectivity, and uses Nokia's regular Series 40 UI rather than the S60 smartphone platform that's been trickling down from the N series into some of Nokia's mid-range mobiles. You won't find GPS here either, even though Nokia Maps software is pre-loaded.
The 6600 Slide's eye-pleasing design has a finger-friendly sleek feel about it, thanks to a glossy black plastic casing with smoothly rounded edges. It's a neat size too, measuring a compact 90 x 45 x 14mm, but is surprisingly substantial, weighing a hefty 110g. This is partly down to some solid steel and aluminium bodywork. It's petite design means it's not noticeably pocket-sagging, though, and balances comfortably when the slider's slipped open for action.
A pair of vertical buttons flank the navpad, the top halves triggering the soft menus, the bottoms forming the Call and End keys.
The 6600 Slide's 2.2in, 320 x 240 display is what you'd expect to find on a mid-range handset, but looks decent enough, the 16m-colour screen zinging out bright and sharp from the black surround. Just above the display is the phone's number two camera, a low res shooter for video calling.