Voice-controlled helicopter takes off
'We've got strong headwinds coming in from the North...'
Games controlled using your brainwaves are currently all the rage. But Japanese toy firm Taiyo has just announced its development of a voice-controlled helicopter.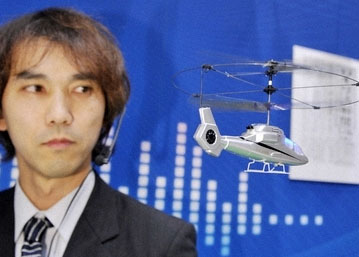 Taiyo's voice-controlled New Hornet helicopter
Images courtesy of AFP BB News
The New Hornet helicopter comes with a headset that allows the user to control the toy with a pre-set series of commands, such as "Start the engine", "Up", "Hold", "Down" and "Stop".
"Dive, dive, dive", "Launching sidewinders", or "You are cleared for take-off" commands don't seem to have been included, alas.
But a traditional thumb-operated controller hasn't been ditched altogether, because pictures show the... ahem... pilot operating the toy with one.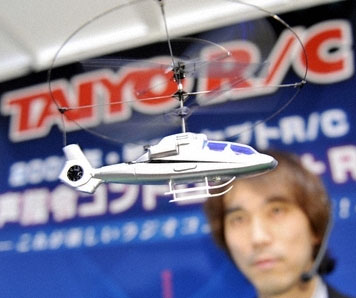 "Up, i mean down... er... left, side-to-side, hover..."
The battery-powered helicopter is about 7in long and can fly up to 10m away from the operator before crashing to the ground.
Taiyo's New Hornet helicopter will fly into Japan in March, priced at ¥5229 (£38/€43/$57). A UK launch date or price hasn't landed yet. ®