Internet to Obama: 'Pass the joint'
Online suggestion box goes to pot
---
President-elect Barack Obama has promised change. And there's one change that internet-happy Americans want more than another other. In an age of crippling recession, skyrocketing unemployment, and a looming threat environmental armageddon, their primary request is this: Pass the joint, yo
Obama's Change.gov site will close down its internet suggestion box today, after a week of taking suggestions and opinions on the new administration's executive policy from the web public at large. In standard Web 2.0 fashion, users can vote up or down on existing entries — the theory being that the best schemes will rise to top.
Supposedly, the "top ideas" will be presented directly to the new Commander-in-chief in the form of a "Citizen's Briefing Book" following his inauguration on January 20.
Barring any massive last-minute changes, the tip-top idea will be best summarized by the philosopher/poet Chris Tucker in his cinematic role as Smokey: "I'm gunna get you high today, 'cause it's Friday; you ain't got no job...and you ain't got shit to do."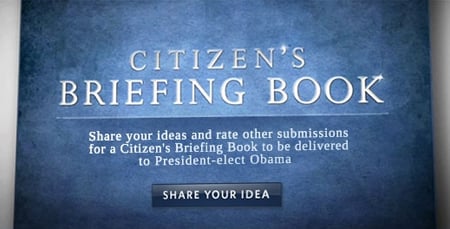 Here are the top-five results (for the moment):
1) With 70,520 points at time of publication, the the most popular idea by a margin of 10,300 is "Ending Marijuana Prohibition."
"I suggest that we step back and take a non-biased 'Science Based' approach to decide what should be done about the 'Utter Failure' that we call the War on (some) Drugs," the entry reads.
Of course, the Obama team has done a notable job ignoring its top entry. The staff skipped directly to commenting on the second most popular idea in their videos of Obama administration officials addressing the cream of the crop.
Which brings us to: 2) "Bullet Trains & Light Rail."
Numero dos in user popularity calls for an increase in funding for US train transportation at the federal level.
"I think that the one issue keeping many people from using trains to travel to and from other cities is that they are too slow," the submitter writes.
That — or maybe a fear of getting shot. Nancy Sutley, the chair-designee for the White House council on environment replied on YouTube that the administration will be "really excited" to look into high speed rail.
3) Closely behind train funding in votes is a call for "an end to the government sponsored abstinence education to be replaced by an introduction of age appropriate sex education."
"Sex WILL happen," the entry observes. "As adults our own histories have proven that. It is wrong to expect more from our children than we could for ourselves. We can, however, help them to understand the consequences and beauties of decisions they choose to make."
To be saved for a cold day in hell is 4) the request America "Commit to becoming the 'greenest' country in the world."
"If America committed itself to this creed it would solve many problems at once," the suggestion states. That includes saving the US auto industries, putting millions of people back to work, creating safe transportation, and eliminating the country's need for "foreign oil."
"Renew the American Dream and restore America's leadership and respect in the world," the submitter writes. Shine on you crazy diamond.
At the end of our top five, we hit our top 5), which takes us back to !): "Stop using federal resources to undermine states' medicinal marijuana laws."
"Our federal government is wasting scarce resources - and hurting sick people - by arresting patients and their caregivers; it should stop doing so," the policy suggestion reads.
Speaking of hurting sick people — not only does pot reform come up twice on the top five — it ranks above even a call for the closure of Guantanamo and Abu Ghraib.
So how did mob rule do? Frankly, I'm surprised the internet pulled together a policy list without demanding the establishment of a LOLcat tzar and the national anthem become a Rickroll. Still, I can't help but wonder how much the list was gamed by various internet groups.
But ultimately, it comes down to this: Will policies based on internet popularity really be destined for consideration in the Oval Office, or have the "Citizen's Briefing Book" voters just created Obama's new presidential paperweight? ®