Hyundai steers into UK mobile market
Mirror, signal, manoeuvre connect
You may know Hyundai for its cars, but the firm's switched lanes and inked plans to sell mobile phones into the UK.

Hyundai's MB500 phone
Hyundai has already released around 15 phones into other parts of Europe, including Germany, since September last year.
It'll now supplement this with between ten and 15 phones a year for the UK, with the first Blighty model expected to roll off production lines during the first half of 2009.
The firm's keeping details about its first UK phone under wraps for now, but has said it'll form part of its Business handset sector and it'll be based on Windows Mobile.
Hyundai's talkers will be spread across four other sectors: Basic, Music, Lifestyle and Innovation. Presumably, a Basic phone may not come with a camera and won't be 3G capable, while a Music model will sport spacious storage capacity and support music downloads.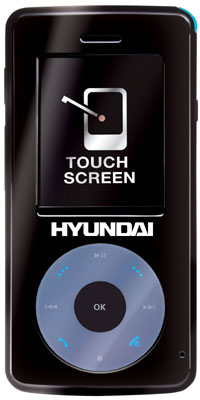 The MB400: it's not an iPod, honest!
But what else can you expect from the car maker's phones? Its existing MB400 phone, despite looking like an iPod, sports a touch-sensitive display, camera, Micro SD storage and Bluetooth connectivity.
The firm's also already launched the MB500 too - a slider-style phone with 3Mp camera, FM radio and integrated music player.
Within its first five years, Hyundai's UK mobile division aims to control between three and five per cent of the mobile market in Blighty. ®