Nokia N97 to land late Q1
March, to be exact
The chaps over at online retailer Play.com have begun listing a price and launch date for Nokia's recently unveiled N97 touchscreen webphone.

Nokia's N97 comes to Play.com in March
Despite making waves at this year's CES, Nokia's kept mum about when the phone will be available from and – crucially – how much it'll cost. However, Play will happily take £480 ($700/€531) from you now to pre-order the phone, which it says it'll ship out to you on 31 March.
Nokia's positioned the N97 as its flagship superphone and said it's "the world's most advanced mobile computer". The talker's also heavily focused on social networking, with an "always open" window for sites like Facebook and MySpace.
It sports a 3.5in, 16:9 widescreen touch-sensitive display with a slide-out Qwerty keyboard underneath, giving you the advantage of both forms of data entry.
The home screen can be personalised, so if you don't like Nokia's selection of on-screen widgets, you can pick your own.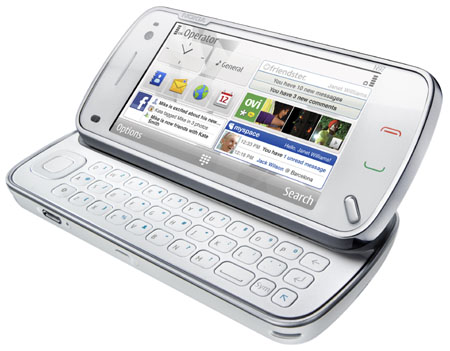 Watch "DVD quality" video on the 3.5in, 16:9 touchscreen
It boasts HSDPA 3G, Wi-Fi connectivity and Assisted GPS. Flash is installed too, which should make surfing slightly less painful.
You'll get a massive 32GB of on-board storage where you can keep pictures snapped using the phone's 5Mp camera. If you do need more capacity, a Micro SD card slot's built in too. ®