HTC Touch 3G Windows Mobile smartphone
A very well-connected handset
Review Hot on the heels of the Touch Viva - the budget Touch - comes the 3G version. Smaller, neater, and with more features, including - of course - 3G connectivity, Assisted GPS and a 3.2Mp camera, this is the next stage up the Touch ladder.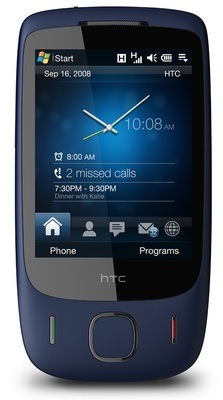 HTC's Touch 3G: compact and stylish
Like the Viva, the layout resembles the original Touch handset from 2007. This one is smaller than the Viva - 102 x 54 x 15mm to 105 x 59 x 16mm - and weighs less too: 96g compared to the Viva's 110g. It's only a few millimetres on each side but it makes all the difference – the 3G feels like a much more compact and neatly designed product.
It also helps greatly that the touch screen is flush with the casing, not recessed as it is with the Viva. This means you can easily reach the extremities of the screen with your thumb, including the scroll bars, rather than having to resort to the stylus which slips into a recess on the side. Unlike the stylus holder on the more expensive Touches, the one here is not magnetic, but it's held firmly enough.
Like the Viva, the number of physical controls have been kepts to a minimum: a square navpad flanked by call start and stop buttons on the front, an elongated volume rocker on one side and a power key on top. There's also a multi-connector port. The back has a classy, almost velvety rubberised plastic feel which gives it a little grip when placed on a table, but not so much that it feels awkward in the pocket. The Touch 3G's available in four colours: muted shades of blue, gold, brown and black.
The screen itself measures 42 x 56mm, so it's only slightly smaller than the Viva's 44 x 58mm and offers the same 320 x 240 resolution, which, while it may not be the sharpest spec around, looks fine showing both web pages and videos.

The nice display fits flush with the phone's face
As per other Touches, the 3G uses HTC's TouchFlo interface on top of Windows Mobile 6.1 Pro, giving its style and useability without losing the versatility of Windows Mobile. The interface isn't quite as flash as the TouchFlo 3D UI found on the Touch Pro the Touch Diamond, but that really just means the graphics aren't quite as advanced – the functionality is basically the same.