Addonics NASU2 micro USB NAS adaptor
Tiny gadget that shares your USB HDD on the network
Review You've got yourself a big old external hard drive. You've got yourself a network. How do you bring the two together?
Addonics' NASU2 NAS Adaptor is a good place to start. It's a tiny, 70 x 32 x 25mm black box with a USB 2.0 port at one end and a 10/100Mb/s Ethernet port at the other. There's a dinky 285mm patch cable in the box to hook the unit into your router, and you can use the USB cable that came with your HDD to connect the NAS Adaptor to the drive.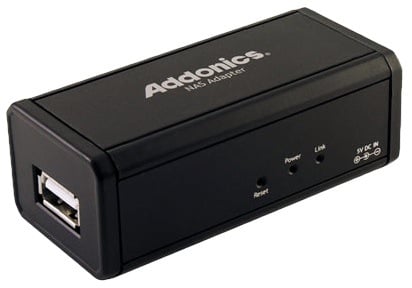 Addonics' NASU2 NAS adaptor: compact size, compact price
The unit takes a 5V power feed - there's a suitable AC adaptor in the box - and it's capable of keeping a bus-powered drive pumped full of juice. We tried the NAS Adaptor out with a 250GB Iomega eGo we had kicking around the Register Hardware office and had no trouble using it without its own power supply.
That said, you'll need a powered hub if you want to attach multiple USB devices to the Adaptor. We tried it with a bus-powered mini-hub, and the NAS Adaptor would only see the connected USB Flash drive not the Iomega.
Last but not least on the subject of power, British buyers will be sent the UK version of the NASU2, which comes with a British three-pin plug on the phone-style AC adaptor.

Not a complex port array
In addition to all the network-centric hardware, the NAS Adaptor contains operating system enough to host a basic web server for the administration console, plus servers to share the connected storage. Addonics claims it'll host up to 64 concurrent SMB clients and eight concurrent FTP users. We haven't that many computers to try, but it certainly had no problem simultaneously swapping data with the two or three machines you might find on a home network.