£1 coin gains GPS
Flip for food decisions
Flipping a coin to decide where to eat out tonight is all well and good. But when the flip's decided on Carluccio's instead of Pizza Express, how do you find the darn place? Enter the GPS coin.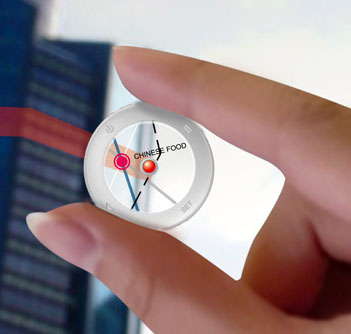 Inbi-out makes restaurant decision easy - and then guides you to them
The concept coin - officially dubbed Inbi-out by inventor Ju-Wei Chen - looks slightly bigger than a pound coin, yet features a circular semi-transparent screen and integrated GPS navigation.
Simply flip the coin and whatever side lands face up is the decider for what sort of food you should eat out tonight. The screen then displays satnav-style directions to a nearby eatery specialising in your the coin's chosen food.
Every restaurant that you eat in is then recorded by the coin, helping you to build up a database of locations for future meals out.
No plans to manufacture the coin have been announced, but we'd guess that there's a 50:50 chance of its appearing in shops in the future... ®