LG demos super-contrast ratio TV
1,000,000,000:1
Remember when TVs with 2,000,000:1 contrast ratios and 200Hz frame rates impressed you? Well, LG's latest telly blows those specifications out of the water.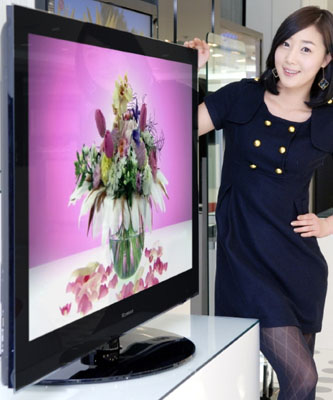 LG's TV has a billion-to-one contrast ratio
The PQ60D set has just been unveiled by the firm in Korea and it not only boasts an unbelievable 1,000,000,000:1 contrast ratio, but has a 600Hz frame refresh rate too.
LG claimed that the set's physical design has been crafted to ensure that the screen looks superb hanging on your wall. This has been achieved by hiding the integrated speakers from view and by keeping the set's thickness down - probably by putting the tuner in a separate box.
A sensor built into the telly also helps adjust the screen's brightness according to surrounding ambient light levels, which LG claimed can reduce the set's power consumption by up to 60 per cent.
Elsewhere, you'll find four HDMI ports for plugging in your PlayStation 3, for example, and a USB port through which a Flash drive chocked full with pictures of you buying the set can be connected.
LG's PQ60D TV will be available in 42in and 50in screen sizes. Plans to bring the set to the UK haven't been announced yet. ®