Obama: 1m electric cars on US roads by 2015, please
$7000 tax break pondered
'Leccy Tech Presumably choosing to do it not because it is easy but because it is hard - well, hard-ish - the Obama White House yesterday declared that it "hopes" to create a $7000 tax credit for the purchase of alternative vehicles and get one million plug-in hybrid cars – or any cars capable of 150mpg or more - that's 186+ in Imperial mpg - on US roads by 2015.
Of particular interest to the folks at Ford, Chrysler and General Motors will be the comment that said hybrids and 'leccy vehicles will be "cars that we will work to make sure are built here in America".
It's all part of a plan for the US to "eliminate current imports from the Middle East and Venezuela within ten years", "ensure ten per cent of electricity comes from renewable sources by 2012 and 25 per cent by 2025", and "implement an economy-wide cap-and-trade program to reduce greenhouse gas emissions 80 per cent by 2050."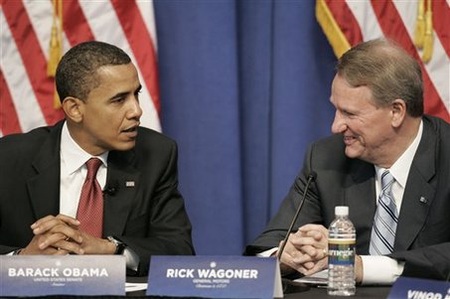 Obama and GM's Rick Wagoner: Volt for you, Mr President?
More details of President Obama's vision for the next four years can be found an the new White House website, which went live at noon yesterday just as Dubbya sloped out of Washington DC.
It was also announced yesterday that Fiat has acquired a 35 per cent stake in troubled US car maker Chrysler. The deal doesn't involve any cash changing hands but does give Chrysler access to Fiat's small-car platforms, an area in which it is very weak, and Fiat access to Chrysler's US distribution network, an area where it is even weaker.
There's no news on whether or not Chrysler's ambitious 'leccy car plans played any part in sparking Fiat's interest, but at least the deal should see Chrysler stay in business long enough to benefit from the new President's interest in matters green and electric. ®