This article is more than 1 year old
Nokia 5800 XpressMusic touchphone
Nokia takes on the iPhone in its own way
Review It's hardly a surprise that Nokia's first post-iPhone foray into touch-controlled mobiles has drawn massive amounts of interest. Nokia may have dabbled briefly with touch-operated handsets before, with its 7700 and 7710, but the 5800 XpressMusic is certainly year-zero as far as Nokia devices designed to take on Apple's game-changer are concerned.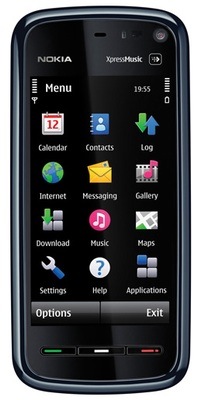 Nokia's 5800 XpressMusic: taps into the touchphone design vogue
The big-screen, black-slab styling taps into the current touchphone design vogue, but the rest of the bodywork has a distinctly Nokia feel to it: a purple-ish rubber-feel back and typical XpressMusic red or metallic trim. It's not particularly svelte by comparison to some touchscreen phones, measuring 111 x 51.7 x 15.5mm and weighing 109g. It feels more like an N-series candybar than one of the trimmer Samsung or LG touchphones.
A trio of skinny call, end and menu buttons sit under the display. Above it, there's a video-call camera and a touch-sensitive Media key for pulling up a list of music, video and picture apps and a link to Nokia's YouTube-meets-Flickr site, Ovi. As well as the usual volume and camera buttons on the side, a spring-action slider does an effective job for locking and unlocking the touchscreen to prevent accidental input.
The large touchscreen is a 3.2in, 640 x 360 pixels, 16m-colour job. It offers haptic feedback as you touch the screen - the level of vibration is adjustable - but where precise screen control is needed, you can use the thin stylus that's slotted into the back casing - or a curious plectrum on a wrist band.
Inevitably, the term 'iPhone killer' has been bandied about, but the 5800 isn't really the kind of device that would convert Apple phone fans. Built on the long legacy of the S60 platform, the 5800's user interface isn't the delightfully slick experience you get with an iPhone. It doesn't have the same easy-swiping multi-touch action, and although you can use your finger to scroll information around the screen, you don't get the iPhone's smooth-rolling feel of zipping through menu lists and pages.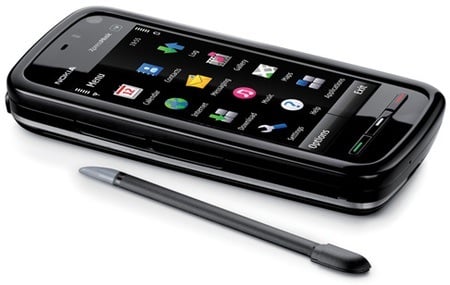 There's a stylus for the fat-fingered
Nonetheless, Nokia has developed a straightforward, easy-to-operate UI - it's S60's fifth edition - with some useful features. The standby screen presents two buttons at the bottom of the display to open up the virtual numberpad and the contacts list. At the top of the display, you can tap icons to access and change the clock, calendar, profiles and connectivity options.