This article is more than 1 year old
Nokia 5800 XpressMusic touchphone
Nokia takes on the iPhone in its own way
A bar towards the top of the screen can present shortcuts of your key contacts as fast access buttons. Images can be attached, and dabbing these buttons pulls up a thread showing headers for up to six recent calls or messages, sent or received, plus buttons for making calls and sending messages. You can also allocate two RSS feeds to the entries in the Contacts bar, so you can quickly get online updates from social networking sites and blogs relevant to them. It's a neat set-up that's handy if you have a few regular contacts you want to stay up to date with.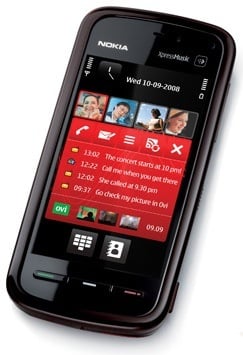 Use the Contacts Bar for social networking
Nokia also includes the option to replace the Contacts bar with a more conventional row of four shortcut icons, or ditch both for a clean screen.
Getting to grips with the touch system won't take long, and anyone already up to speed with S60 will recognise certain familiar structures and traits within the 5800's menu and navigation set-up. Click the main menu button, for instance, and you get the usual grid of a dozen app icons. Throughout the menu system, two buttons at the bottom of the display do the work of conventional soft-menu keys.
For sub-menus where you need to scroll to see all the choices, a scroll bar appears, which can be dragged down to whizz to the end more quickly than finger-swiping down the list will get you there. We found the screen generally offered ample room for using fingers to select buttons and most menu options. The screen is fairly responsive, and scrolling down lists is speedy and hassle free.
For text input - notes as well as messaging - the 5800 pulls up a regular numberpad, although this can be switched into a full-width, landscape-oriented Qwerty keyboard, or a mini-Qwerty layout which can be used in either orientation. Although the latter option is best tapped with the 5800's stylus, the other two keypads are sensibly laid out and provide plenty of space for fingers.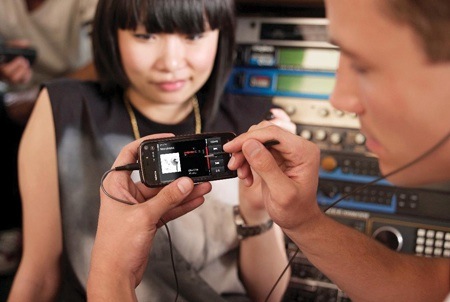 Spinal Tap-tap-tap?
We'd like the 5800's accelerometer - it does have one - used to automatically switch between the numberpad and the full Qwerty keyboard layout as almost all other touchphones do. The accelerometer is used for some media apps, such as the picture viewer. For those who prefer scrawling to tapping, Nokia has included an additional handwriting recognition option too.