This article is more than 1 year old
Nokia 5800 XpressMusic touchphone
Nokia takes on the iPhone in its own way
The 5800's 3.2Mp camera may not be up there with the latest 8Mp cameraphone shooters, but it does a good enough job. It has an autofocus system inside that's responsive and can home in tightly for crisply focused close-ups too.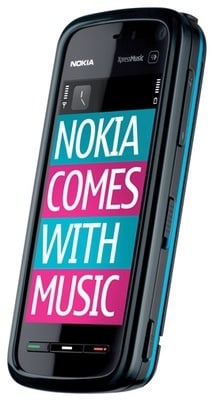 It comes with music, apparently...
Outdoors in strong light, you can get a very decent amount of detail and vibrant colours, though at times they can look a touch oversaturated. In higher contrast scenes, though, the camera doesn't do so well, with too much picture noise creeping into the murkier areas. Similarly, in dark conditions or indoors, the twin-LED Flash only has a limited effect on boosting image quality, and shots can appear grainy and dull.
The camera UI is easy to follow, however, with large icons for shooting, flash and settings. Tapping into the settings, there's a clearly labelled grid of icons for various elements to adjust and auto-metering overrides - white balance, exposure, light sensitivity, sharpness, scene modes - plus the usual colour effects and a timer.
It's all very intuitive, as is the video capture set-up. The camera can record at up to 640 x 480 at 30f/s, yielding better quality playback than most cameraphone footage. Material shot in dark conditions can still appear grainy, however.
As usual with S60 phones, you can do some basic image and video editing, and upload the results. A TV cable is supplied too, in case you want to view any content on a bigger screen.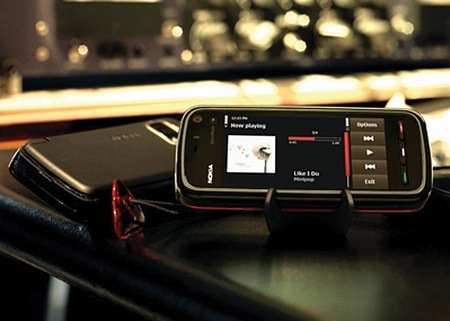 There are plenty of apps to take advantage of the 640 x 460 screen
With such a large display, there are several applications on the 5800 that make the most of the screen real estate. It's a fine device for enjoying video, delivering lovely smooth, clear and bright images in the RealPlayer application. Video file formats supported include MPEG 4 SP, MPEG 4 AVC and WMV9. The standard S60 Video Centre app is also included for accessing a variety of online mobile-optimised video content for downloading and streaming.
However, with our pre-production review sample, we did have occasional issues with the screen's colour cast, the hues altering as we used certain app.