This article is more than 1 year old
Nokia 5800 XpressMusic touchphone
Nokia takes on the iPhone in its own way
The latest touch version of Nokia Maps 2.0 looks great on the large display, and maps of the UK and Ireland have been pre-installed on the bundled memory card. For full voice guidance, you have to pay a subscription fee, but out of the box, Maps gives you all the other typical satnav route-planning features and lets you browse maps in 2D, 3D or satellite image views. You zoom in and out using buttons, not iPhone-style multi-touch gestures.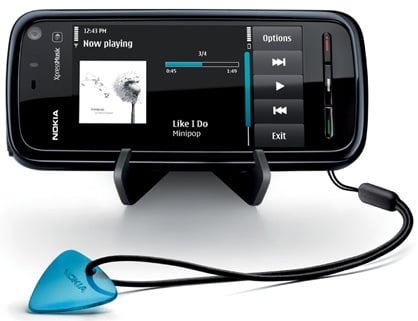 There's a plectrum-style stylus for the more musically inclined
We found the Assisted GPS system very responsive, locking on to satellites and determining our position very quickly from start up at a number of locations, usually taking just a few - and no more than 30 - seconds to pinpoint our position. Speed can vary according to where you are, of course, but we found it impressive when compared to other A-GPS phones we've looked at in similar circumstances.
With 3.6Mb/s HSDPA and Wi-Fi, the 5800 delivers a good mobile browsing experience too. Again, it may not be quite up to the pinch and swipe slickness of the iPhone, but it renders web pages swiftly and reliably, and supports for Flash, something the iPhone doesn't. Zooming is done with a quick tap and drag of a zoom bar, and you pan around pages with the same tap-and-drag gesture. Links for FaceBook, MySpace and YouTube are pre-loaded for quick access.
As well as the headline grabbing apps, the 5800 includes plenty of standard-issue S60 tools, including voice command and personal organiser stuff. Email is easy to set up and use, while instant messaging is supported too. A variety of additional apps can be found and downloaded using the Download! utility.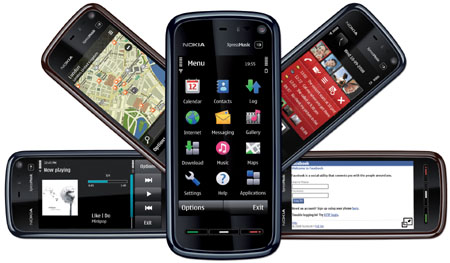 Plenty of apps bundled - more are just an HSDPA or Wi-Fi download away
A couple of games – the touch-controlled Bounce Touch and tilt-steered Global Race Racing Thunder – eke a little entertainment out of the touch and accelerometer capabilities. On a practical level, the phone also uses sensors to let you mute incoming calls and alarms by turning the phone face down.