This article is more than 1 year old
Nokia 5800 XpressMusic touchphone
Nokia takes on the iPhone in its own way
When making and taking calls, we found the 5800 worked a treat, with clear and reliable calling and network signal handling up to scratch. The touchpad uses a proximity sensor to disable the screen when your face is next to it, the better to conserve battery life and prevent accidental button presses.
Despite the smartphone features and touchscreen hoopla, the 5800 isn't being pitched at a premium price. Nokia is initially selling the device for £249 SIM-free, and it can be had on contract for free.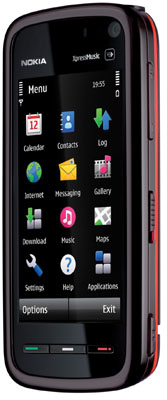 Heaps of functionality
With the heaps of functionality in this device that can eat away at battery life, real world battery performance is going to depend on how much you use particular features. Nokia estimates an optimum power performance of up to 400 hours standby on 3G networks, or 406 hours in GSM coverage - talktime is reckoned at up to five hours for 3G, or 8.8 hours on GSM networks. Music playback alone can run to 35 hours. But heavy Wi-Fi or A-GPS usage is going to drop those figures considerably. We managed a reasonable two to three days out of the phone between charges with typical amounts of phone usage.
Verdict
As the first mainstream touchscreen phone from the world's number one phone maker, the Nokia 5800 XpressMusic does an effective job at translating the S60 UI into a touch-sensitive world. It's functional, responsive and perfectly good to use, though it doesn't have the elegant fluidity and intuitiveness that the iPhone introduced and other systems are now aspiring to. It's distinctly a Nokia smartphone with touch operation more than an iPhone clone. It delivers as a musicphone too.
Nokia may still have some way to go with touchscreen technology, but this device looks destined to become another Nokia chart-topper. ®

Nokia 5800 XpressMusic touchphone
Nokia tackles the iPhone on its own terms, not Apple's, and comes up with a decent music phone but no touchscreen sensation.
Price:
Contract: from free. Pre-pay: TBC. Handset only: £249 RRP