This article is more than 1 year old
Atek Logio password storage gadget
Remembers the login details you can't
Review Whether you're logging on to a computer, withdrawing cash from a hole in a wall or reviving a comatose mobile phone, passwords are a daily nuisance necessity. With so many mundane tasks requesting usernames and passwords, a possible solution to this ongoing memory game is the Atek Logio Secure Password Organiser, which acts as the keeper of the keys and nothing more.
About 3mm thick and only slightly wider than a credit card, the Logio features a "US government recommended AES encryption algorithm". There are no computer interface options and no backdoor access. Forget the master password, then forget about ever unlocking the Logio again – it's junk.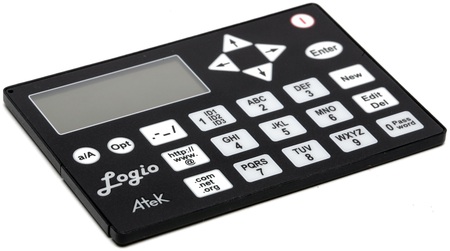 Atek's Logio: keeper of the keys
Supplied with a leatherette wallet, lanyard and a 50-page user manual, it's easy to overlook the single coin-cell battery taped inside the packaging that now lingers in the bin. This commonplace CR2016 cell slides in a fairly unobtrusive slot on the bottom left corner of the Logio. Fortunately, all records remain in memory when the battery needs replacing.
Available in black or white, the Logio has a landscape mode aspect with alphanumeric keys laid out horizontally, plus a range of data-entry shortcut keys. Adjacent to the three-row LCD screen - capable of showing up to 11 characters per row before scrolling - are the navigation keys, power button and enter key. The Logio relies on a membrane keyboard, which can be set to beep to confirm key presses.
The initial set-up requires the master password to be entered before anything else can be configured. This has to be numeric only and between eight and 15 digits long. The manual offers some mnemonic suggestions which, considering this is an aid for the forgetful, is a thoughtful addition. Entering the master password is the only time that the keypad becomes numeric-only. At all other times, it works like a mobile phone, requiring repeated key presses to access the different characters assigned to each key.