This article is more than 1 year old
Apple explores auto iPhone audio
Smart sound sensor
What if your iPhone could set its own volume?
Today, the US Patent & Tradmark Office published an Apple patent application for an intelligent sound sensor that would adjust a device's audio volume level in relation to the ambient sound in its environment.
Originally filed in July 2007, the application - prosaically entitled "Method and Apparatus for Using a Sound Sensor to Adjust the Audio Output for a Device" - mentions four specific types of devices that could benefit from the proposed sensor technology: a mobile phone, laptop computer, music player, and "automotive environments." But the system could just as well be used in desktop or tablet computers.
The sensor could, for example, turn up an iPhone's ring-tone volume in a noisy convention hall - or turn down the boot chime of a MacBook when it's midnight and your partner is asleep in the bed next to your desk.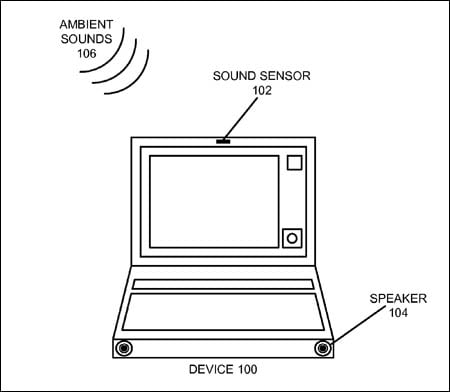 Can you hear me now?
One goal, as stated in the application, is to "ameliorate[s] potentially-disruptive audio outputs." To guard against an eardrum-shattering boot chime the next time you reboot after cranking up volume on your iMac to listen to Slayer's Reign in Blood, the sensor system could kick in at boot time, "prior to powering on other portions of the device."
The sensor could determine an environment's minimum, peak, and average sound level; frequency and "characteristic" of the ambient sound; and keep track of "the elapsed time since a previous volume setting adjustment." It could also be smart enough to not be fooled by percussive bursts of sound, either in the environment or produced by the device itself when, for example, it's playing your Afro-Cuban Percussion playlist.
As might be guessed, the sensor would be user-adjustable. You could dial in your preferred signal-to-noise (S/N) ratio or simply override the sensor, adjust the volume of your "device" - read iPhone, iPod, iMac, or MacBook - to your preferred S/N ratio. The sensor's brains would learn and remember your preferences for multiple environments.
You could also tell the sensor whether you want it to adapt to a preset S/N ratio or ignore the N and focus on the S. For example, you could enable the sensor to automatically detect whether you're using headphones and adjust the signal relative to the volume of the music you're listening to, ignoring the ambient sound. Or not. Your call.
In the event that other users of your device have different volume or S/N preferences, the sensor system could learn and remember each user's preferred settings.
Finally, the application states that the system could employ "a 'hacker-proof' sound-sensor digitization circuit" to prevent "malicious entities from downloading instructions that can take control of the sound sensor and record audio without the user's knowledge."
Or, for that matter, from someone overriding your preferences for a deafening April Fools' joke. ®