ISPs slam CEOP bid to rewrite RIPA
'Money well spent'
ISPs have hit back after the boss of the UK's online child exploitation police branded the costs of accessing data on their subscribers "ridiculous".
Jim Gamble, chief executive of the Child Exploitation and Online Protection (CEOP) Centre, said yesterday that ISPs should waive the costs of assisting investigations when children are involved.
"Their [ISPs'] core business is the online environment, bringing customers to that environment, and where customers coming to that area commit a crime, it's ridiculous that we would have to pay to successfully investigate that," he said.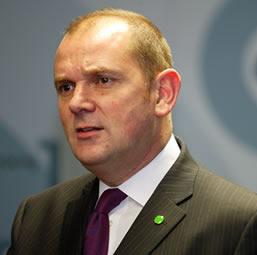 Jim Gamble
Gamble's complaint was followed up with sympathetic coverage from The Sun ("internet firms which charge for help hunting pervs") and given a mindless churn by The Telegraph.
Today, Malcolm Hutty, policy chief at Linx, an ISP cooperative defended the system, argued it has helped foster a good relationship between ISPs and police. He told The Register: "The Home Office, and indeed Mr Gamble in his role as chair of the Association of Chief Police Officers' Data Communications Group both frequently state that law enforcement gets a better and more efficient service from ISPs and telcos as a direct consequence of cost recovery. It's money well spent.
"Regular police forces investigate extremely serious crimes using communications data, including murder, rape and kidnapping, and they believe they are better served by cost recovery. We don't believe that the situation becomes different for child abuse cases merely because they are investigated by a specialist national unit."
The Regulation of Investigatory Powers Act (RIPA) entitles ISPs to charge police reasonable costs for data retrieval. The government meanwhile has paid ISPs and telcos £19m in the last four years to pay for its agencies' growing demands for access to communications data.
Gamble made his comments on the back of a BBC freedom of information request that revealed since its foundation in 2006, CEOP has paid more than £170,000 for 9,400 requests for information from ISPs. The BBC reported some ISPs "demand as much as £65 a time" for the service, without noting that the figures it obtained show the average cost is closer to £18.
According to CEOP's figures, those 9,400 requests have helped in 297 arrests (there's no figure on how many convictions). According to Register sources, CEOP is the largest source of law enforcement information requests received by ISPs, beating anti-fraud and anti-terror agencies.
CEOP however also issued a press release about the freedom of information request, to back its chief executive's lobbying. It shows child protection officers' demands for ISP data rising rapidly.
Hutty said RIPA's provision allowing ISPs to recover costs had been vital in ensuring they are able to work with police effectively. He said: "We strongly reject any suggestion that ISPs are causing the problem of child abuse. On the contrary, ISPs actively support law enforcement action to protect children, which is made possible by the cost recovery scheme."
ISPA, the internet providers' trade association, also criticised Gamble's position today. Its chief executive Nicholas Lansman said: "ISPs are a business, and reimbursement for the costs incurred in assisting law enforcement is fair and necessary."
ISPA said law enforcement agencies agreed to the system of reimbursement when RIPA was drafted. ®