German engineers punt 'open source' OLED-clad car
Collaborative approach to design?
'Leccy Tech With the Geneva Motor Show on the horizon, German engineering services provider EDAG has released a preview of what it hopes will be one of the stars of the 2009 Swiss auto gathering: the "Light Car – Open Source", a concept it is describing as "visionary and courageous".
The LC-OS consists of a rolling chassis that can be adapted to a number of styles and roles by using different body panels. Drive will be provided by four in-wheel electric motors powered by a lithium-ion battery pack which give the vehicle a range or around 150km (90-odd miles).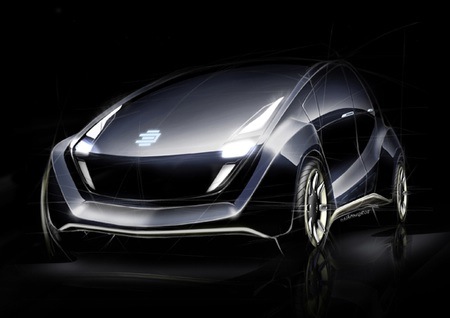 EDAG's Light Car: bodywork clad in OLED panels
So far so good, but now things start to get a bit sci-fi.
To begin with, the LC-OS's body panels will be made from something called basalt-fibre made by Austrian company ASA.TEC.
Rather being made of chunks of the Giant's Causeway, basalt fibre is made up of the minerals plagioclase, pyroxene, and olivine – none of which we had actually heard of before today - and while similar in usage to carbon fibre and fibreglass, it's tougher than the latter and cheaper than the former. It is also fully recyclable and has a specific tenacity three times that of steel. At least that's what is says here.
The basalt-fibre body panels will apparently be transparent giving the car the appearance of being made of glass - so bad news for anyone who likes to drive while nude – although EDAG's announcement is a little contradictory on this point.
Some or all of the outer and inner bodywork will be used as a giant OLED screen which can portray lights and instruments as, when and where the driver wants, in effect turning the entire car into a computer desktop - well, sort of.
"We have transferred today's multimedia and lighting technology standards to the car, and in future want to offer the customer scope for free configuration, as the entire surface of the vehicle functions like the display of a multimedia installation, and can be used intelligently and individually," said Johannes Barckmann, head of the EDAG Design Studio.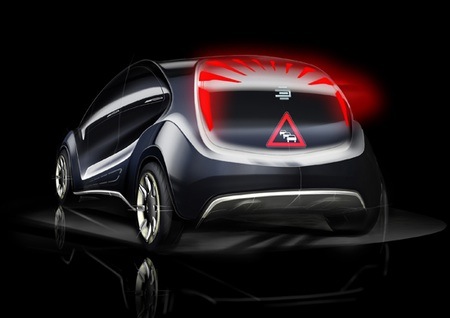 OLED rear window for an enormo brake light
Uses for this include a graduated display of the LC-OS' braking force on a whole tailgate screen "brake light", which could be helpful for those driving behind an LC-OS once they have got over the shock - or for posting rude messages to other motorists.
Before you ask, we should point out that the company's use of the term 'open source' isn't quite how we all understand it. This is no come one, come all collaborative design project - EDAG's simply approaching other firms to help it work on the tech.
The LC-OS will be 4m long, 1.7m wide, and thanks those neat in-wheel motors will have a 2.9m wheel base giving ample space for five passengers.
Come the opening of the Geneva show on 5 March, we will have more of an idea as to how much of EDAG's plans are based on hard engineering and how much on their design department smokin' and a-tokin' late one night. ®