Help with Help
When things go wrong - with any operating system - we panic. A healthy response: operating systems are complex machines that take a lot more understanding than we typically have time for. Linux, together with its associated applications and utilities, has the advantage of having been put together by extremely clueful people, many of whom are available on the Web, on forums, newsgroups or directly approachable by email.
That 'About Xfce' dialogue box we mentioned last time, for example, lists Xfce creator Olivier Fourdan's email address, along with the email addresses of the leading members of the Xfce development team. So you can drop a line to the man himself about any Xfce problems you encounter. In fact, in the early days of Xfce I did just that, and you can too.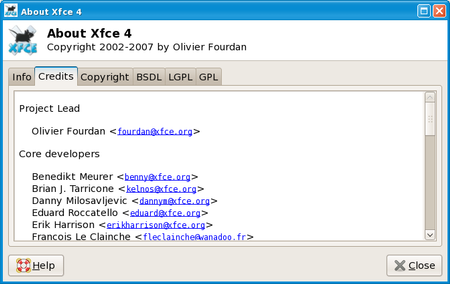 But don't. At least not until you've read How to Ask Questions the Smart Way, which will urge you to exhaust other channels of information first. To quote Smart Way, Linux cognoscenti "have a reputation for meeting simple questions with what looks like hostility or arrogance. It sometimes looks like we're reflexively rude to newbies and the ignorant. But this isn't really true".
Smart Way is written by a couple of dyed-in-the-wool old Open Source hackers, so they would say that, wouldn't they? But hear them out: "What we are, unapologetically, is hostile to people who seem to be unwilling to think or to do their own homework before asking questions. People like that are time sinks - they take without giving back, and they waste time we could have spent on another question more interesting and another person more worthy of an answer. We call people like this 'losers' (and for historical reasons we sometimes spell it 'lusers')."
Smart Way is a lengthy read - hackers tend to be very thorough - but definitely worth it if you're a newbie questing into hacker territory in search of answers. Where, by the way, you'll be more than welcome, as long as you observe the mores. A good rule of thumb is to spend at least as much time thinking about and putting together your question as you would reasonably expect your responding hacker(s) to spend putting together an answer.