Obama's rainbow stealth aircraft uncloaks over Virginia
Spreading the luuurv in Chesapeake Bay
As we're all now fully aware, the world officially became a lovelier place* on 20 January when Barack Obama was sworn in as the 44th prez of the US of A - a heartwarming ceremony at which he promised sunlit meadows in which children might gaily gambol, just as soon as he'd dealt with this pesky global economic apocalypse.
Obama also laid out his multicultural agenda, describing America as "shaped by every language and culture, drawn from every end of this earth", and expressing his hope that "the lines of tribe shall soon dissolve".
This obviously rang a bell down at the Defense Advanced Research Projects Agency (DARPA), previously described by El Reg as "the legendary Pentagon barmy-boffinry bureau", and which recently suggested to the president it could fix the US economy.
Of course, DARPA's activities under president #43 - including laser energy cannons, invulnerable killbots and other high-tech dispensers of death are not exactly what's required to bring peace and prosperity to even the humblest African village.
Cue, then, the quite sensational rainbow stealth aircraft, caught here (or here on Google Earth) uncloaking over Tangier island in Chesapeake Bay: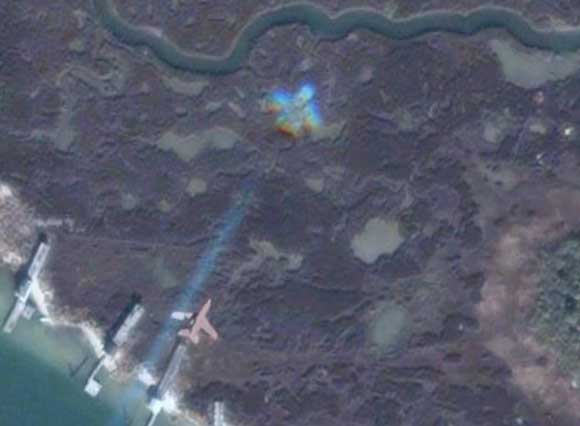 Yes indeed, long gone are the days of sinister, crow-like F-117s discharging their loads of air-to-ground armageddon over America's enemies, replaced by DARPA's luuurv-dispensing flying wing armed with the "GroupHug" good vibes generator guaranteed to melt even the sternest Taliban heart.
Of course, Tangier Island is the ideal location to test such a device. Its small population is containable should the generator deliver so great a feeling of wellbeing and goodwill to all men that the residents up sticks and head en masse for San Francisco with flowers in their hair.
The Register rang DARPA for a comment on its rainbow stealth aircraft, but a spokesboffin said: "Sorry, can't talk now - we're rearming our anthrax plague nanodroid swarm to innoculate kiddies against polio instead. Have a nice day." ®
Bootnote
*Actually, that's not strictly true: I watched the inauguration, and the weather is still crap. Where's the lovely weather we citizens of Earth were promised, eh?