This article is more than 1 year old
Fujifilm Finepix F100fd compact camera
Good performer
Review Some digital cameras are designed to sit on a shop shelf and shout: 'Here I am! Take a good look at me!. They're brash, bold and designed to poke you in the eye, from a stylistic point of view. Not so Fujifilm's Finepix F100fd. Some might describe its design as conservative - a bit boring, even - but we think 'understated' is probably the best term.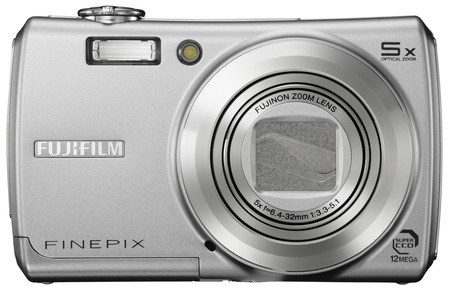 Fujifilm's Finepix F100fd: not snazzy enough?
The F100fd is described by Fujifilm as an "advanced" compact camera, although some might beg to differ, seeing that there are no shutter or aperture priority modes, not to mention an absence of manual aperture or shutter-speed settings. 'Advanced' here means the inclusion of a third-generation face-detection system which Fujifilm says can spot up to ten faces in around a third of a second, plus features like auto red-eye removal.
The F100fd has a pocket-sized aluminium body that measures 97.7 x 58.9 x 23.4mm - and weighs 190g when loaded with battery and memory card. You're certainly aware of the Finepix F100fd when it's sitting in your pocket, but it's more than comfortable to carry around.
On top are the power, zoom and shutter controls. On the right side is a flap for the mini USB port, and on the back, is a 2.7in, "100 per cent coverage" LCD screen which is large, clear and bright. There aren't many buttons to worry about: F (for function) and face-detection buttons sit above a four-way dial which lets you quickly adjust image stabilisation, macro, flash and timer settings. Below this are buttons for playback and the display mode. And that's your lot.
At the bottom is the inevitable flap for battery and memory card slot – the Finepix F100fd takes both xD and SD HC cards. There's 57MB of on-board memory too. It uses a lithium-ion battery which is good for around 200 shots before needing a re-charge.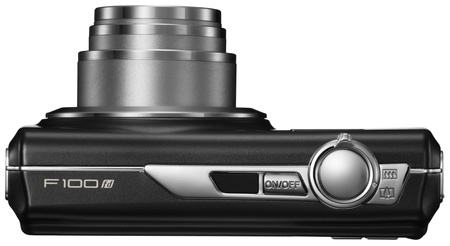 Pretty good spec
The Finepix F100fd offers some pretty good specifications, including a 1/1.6in sensor with 12 million effective pixels; an F3.3-F5.1 5x optical zoom Fujinon lens with a 6.4-32mm focal length, equivalent to 28-140mm in a 35mm camera; an ISO range of 100 to 12,800; and shutter speeds running from 1/1500s to 1/4s in most modes - in night mode the range is 1/1500-8s;