Tesla asks early adopters to cough up more cash
What the US govt gives with one hand - Tesla takes with the other
'Leccy Tech Tesla clearly thought things had gone just a little too well for it at the Detroit Motor Show and so has decided to shoot itself in the foot by increasing a raft of accessory and option prices on the Roadster for buyers who thought they had locked in their options.
First off, the previously included-in-the-price high-power charger that lets you fill up your Roadster in three and a half hours rather than overnight is now an eye-watering $3000 (£2163/€2308) optional extra. Next, the upgraded in-car entertainment bundle that buyers could previously pick and chose from is now an all-or-nothing package that costs... $3000.
The cool looking alloy wheels are now a $2300 (£1659/€1769) option, while the "premium" paint job has increased from $1000 to $2000 (£1442/€1538). The delivery charge has also leaped from $950 to $1950 (£1406/€1500).
One less than impressed Tesla customer by the name of Tom Saxton has drawn up a handy table of the changes.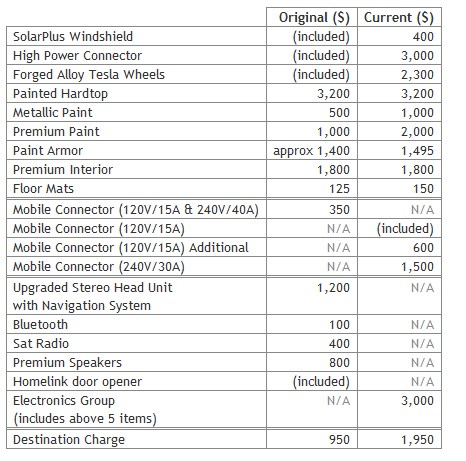 Assuming you wanted the flash paint job, fast charger, a decent set of speakers and can't collect your car from the factory you are looking at an extra $7200 (£5191/€5538).
Some would argue that if you put a deposit down for a new and somewhat experimental car a full two years before the manufacturer will build it for you, such increases are to be expected. But come lock-in time, usually two or three months before the delivery date, the deal is generally regarded as fixed.
Not by Tesla, it seems. And we suspect some Tesla customers will be peering at the small print on their contracts even as you read this.
No wonder Elon Musk reckons Tesla will be cash neutral by the middle of the year.
Tesla maintains the increases were necessary to keep the company healthy, but you have to ask if the sums involved – Tesla says the increases will effect 350 customers, which we reckon means the company will be better off to the tune of around $2.4m, assuming 350 folk cough up the extra $7000 - will make that big an impact on the company's finances when set against the loss of good will and the negative PR.
To add insult to injury, in his 14 January blog posting on Tesla's website, Michael van der Sande, Senior VP of Global Sales, Marketing and Service at Tesla, made much of the $7500 Federal tax credit the Tesla Roadster qualifies for as of 1 January. So the US government makes owning a Roadster $7500 cheaper - than Tesla snatches the cash back. Brilliant! ®