Acer intros 10in Aspire One netbook
Don't mention the 'L' word...
Updated Acer has formally unwrapped the 10in Aspire One, which it said it'll equip with a six-cell battery for a claimed seven-hour runtime.
Acer's new Aspire One: now with 10in screen
The new AA1 packs in the customary 1024 x 600 display, 802.11b/g Wi-Fi, Intel Atom processor. Acer didn't detail the CPU specs, but it said the AA1 will come with a choice of 945GSE or 82801GBM chipset.
The former comes with the old 1.6GHz N270 Atom. The 82801GBM is actually the name for southbridge chip formerly known as ICH7, so it's not really an option in its own right. Rumours have suggested the new AA1 will also be offered with an N280 Atom, but Intel hasn't launched this yet, and probably won't do so until April.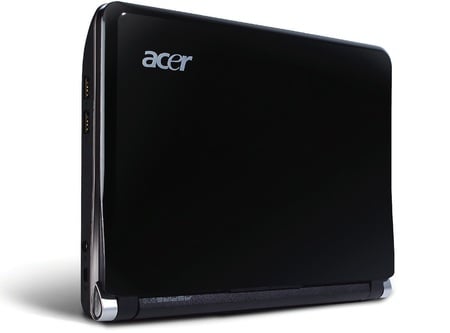 What about a Linux option?
Acer said the AA1 will include Bluetooth and, optionally, HSDPA 3G. For storage, it'll have a 160GB hard drive. It added that the machine can take up to 2GB of memory, though it didn't say how much it'll actually ship with.

Only slightly bigger than the original
It's reticence to communicate details include whether, as before, the new AA1 will be offered with Linux, when it will go on sale or how much it'll cost when it does. But with stocks of the existing AA1 being thin on the ground, we'd say it won't be long before the new one's on shop shelves.
Update
Acer's come clean on pricing and availability: £299 inc VAT, out mid-February. ®
Netbook Reviews...
| | | | |
| --- | --- | --- | --- |
| Acer Aspire One | Eee PC S101 | Dell Mini 9 | Advent 4213 |