LG X110 netbook
Sexiest rebadged MSI Wind yet
Around the sides are three USB ports, a large vent for cooling, power and VGA ports, plus Ethernet and 3.5mm jacks for microphone and headphones, and an SD memory card slot, so virtually all the connection options you might conceivably need.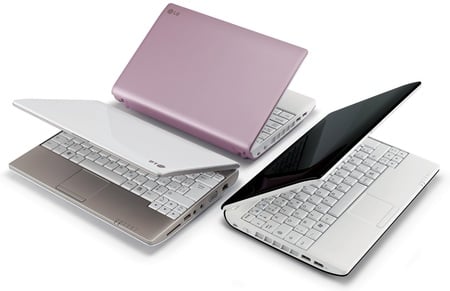 Like the black, not sure about the rest
The speakers are on the bottom and not particularly loud at the best of times. They're likely to be muffled too if you're using the X110 on your lap, so a pair of headphones is advisable if you plan on playing music or movies on the netbook.
There's no clasp on the lid so the machine opens easily and starts fairly quickly – we counted about a minute under Windows XP from a cold start, but if left on standby it can be up and running again in about eight seconds, making it ideal for making quick notes.
Open it up and you're presented with an almost full-size, six-line keyboard with a trackpad. The latter is probably just a mite smaller than it really needs to be, since there's space available between the keyboard and the front of the machine. The keys themselves offer a decent degree of resistance and don't feel unpleasantly cheap or plasticky, though that's undoubtedly what they are - cheap and plastic that is, not unpleasant. You could easily tap away for the duration of the battery without feeling compromised.
The 10in, 1024 x 600 screen works fine for writing and working, but can be a bit frustrating when you're browsing webpages. Even with the screen at its maximum, interpolated 1024 x 768 resolution and text size at its smallest, many web pages appear cramped and cut off in their prime – no one is likely to use this as a replacement for their desktop.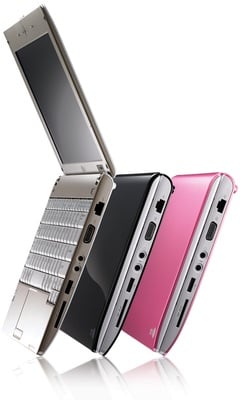 Standard Small, Cheap Computer portage
There's a 1.3Mp camera embedded in the lid which works fine for video conferencing and LG has included Cyberlink Youcam software, which allows you to add frames and animations to your communications as well as offering a direct uplink to YouTube.