LG X110 netbook
Sexiest rebadged MSI Wind yet
Besides Wi-Fi it also has Bluetooth 2.0+EDR on board – useful for transferring data directly from mobile phones. Not unexpectedly for such as small device, there's no optical drive, which is only really a hardship when it comes to installing some programs which are delivered that way, without a download option. Fortunately, netbook-friendly USB optical drives, such as LG's own GP08NU10, are cheap.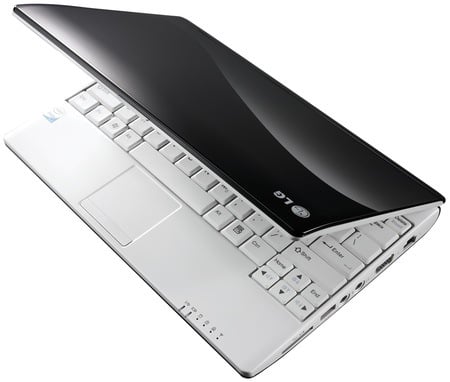 Cheaper alternatives available
It being such a petite device, you wouldn't expect the battery to sustain extended working sessions, and sure enough, we barely go two hours out of it before it packed up suddenly. There are others which will comfortably outstrip this, such as Asus' Eee PC series, which can go comfortably over the three-hour mark.
On its own, you're looking at around £350 for the X110, which is what the same-spec MSI Wind goes for. Of the two, the black-and-white LG is the better looking. Don't care about styling? Then look elsewhere: you can pick up a plain grey Advent 4211c for £274 (it only has a 120GB hard drive and no 3G) or the equally grey Medion Akoya Mini E1210 for £255 (no 3G and an 80GB HDD).
Incidentally, Advent's 4213, which does include a built-in HSDPA modem, only costs £330, but it's currently on sale on PC World's website for £280. Bargain.
Phones4U will sell you a pink - bleugh - X110 for £313.
Verdict
It's a very cute, almost pocketable addition to the netbook genre and while the 3G modem addition could be useful, it also comes at a price. Even without it however, this is still a very attractive netbook for use on the move, preferably with the back-up of a proper desktop at home or at work, though the shortish battery life won't allow you to stray from the mains for long. ®
More Netbook Reviews...
| | | | |
| --- | --- | --- | --- |
| Acer Aspire One | Eee PC S101 | Dell Mini 9 | Advent 4213 |

LG X110 netbook
Very small, very cute, fairly practical and absolutely divine in pink, dahling.