HTC S740 Qwerty keyboard smartphone
An HTC for touchscreen-phobes
The built-in FM radio features nine presets and will automatically scan for and save stations in range, which is a quick way of populating the preset menu. Afterwards, you can fine-tune your selections by saving manually to each preset. You can also switch between mono and stereo for the best sound from a particular station, and even though you'll need the earphones for use as an aerial, you can switch to the loudspeaker if you prefer.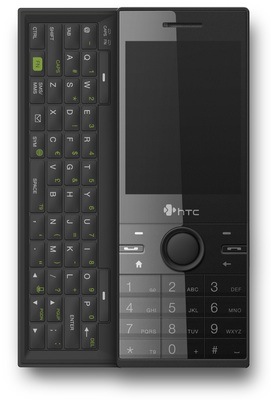 More like a regular phone than the Touch Pro is
Earphones are the standard HTC variety: not very good, offering a closed-in sound and not much bass. Disappointingly, there's no 3.5mm socket or USB adaptor as per Sony Ericsson's headsets which would allow you to add your own.
Windows Office is pre-installed as it is on all Windows Mobile phones, but unlike the Touches, you can't create Word or Excel documents, just edit or view them. However, you can jot down your thoughts with OneNote.
The S740's battery stood up well to frequent use, giving us a good two-and-a-half days' runtime without a recharge, and that was with Wi-Fi switched on constantly. Call quality seemed just fine.
Verdict
The S740 isn't an attention-grabber like its Touch brethren. It looks and acts much like a normal phone, and not a very pretty one at that, albeit with some very fine hidden phone features such as Wi-Fi, A-GPS and an FM radio. And it has the most practical and least imposing hard Qwerty keyboard we've yet seen. If touchscreens don't do it for you, this is the best keyboard smartphone since Nokia's very fine E71. ®
Thanks to Expansys for the review sample
More Qwerty-keyboard Phone Reviews...
| | | | |
| --- | --- | --- | --- |
| T-Mobile G1 | LG KS360 | HTC Touch Pro | Asus M930 |

HTC S740 Qwerty keyboard smartphone
It's a Qwerty-packing smartphone cunningly disguised as a standard handset – it should have been called the HTC Transformer.
Price:
Contract: from free. Handset only: £350 RRP