This article is more than 1 year old
World's fastest production car to gain electric twin
Ten-minute charge to yield 200-mile range, developer claims
'Leccy Tech Shelby Super Cars has announced details of the Ultimate Aero EV, the 'leccy brother to its $620,000, 1287bhp, 257mph production car world speed record holder.
SSC reckons the Aero EV will be the fastest electric car ever when it hits the road later this year.
The Aero will be driven by SSC's electric powertrain package called AESP - All-Electric Scalable Powertrain – which SCC claims is unique due to its "scalable horsepower, light weight, compact size, quick recharge time and liquid cooling".
The AESP is "scalable" from 200bhp for economy and mid-size cars – though we aren't sure when economy cars started having 200bhp engines under the bonnet - to 500bhp for light trucks and SUVs, and up to 1200bhp for heavy duty equipment such as buses and, presumably, for rotating small planets.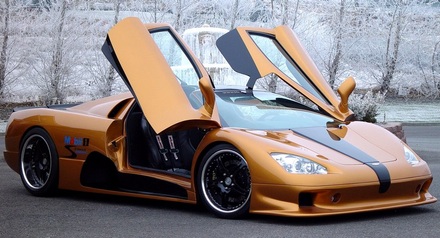 The basis for the world's fastest electric car?
Now the interesting bit: according to SCC, the leccy Aero's "Nanotechnology Rechargeable Lithium Battery pack is rechargeable in only ten minutes on a standard 110V outlet and has a 150-200 mile range on a single charge.
"This means that in a typical eight-hour day, the car using this technology could go 200 miles, charge for ten minutes - the time it typically takes to fill up a tank of gas - then drive 200 more miles, charge for ten minutes and continue on."
Now we at Vulture Central don't claim to be top-flight electrical engineers but that claim sounds like bollo... er... suspicious to us.
A ten-minute charge time from a domestic 110V socket would be ambitious even for an electricity sipping micro-EV with a battery pack similar to that found in the more robust models of electric shaver, but the Ultimate Aero EV is a tarmac melter with a top speed presumably a fair bit above the Tesla Roadster's 125mph and, according to comments SCC made back in July 2008, a 500bhp electric motor.
SSC goes on to say that it will "wholesale the AESP to mass-production car companies, governments, and to public, private and niche businesses. Costs for mass-produced units are $5000-6000 per unit for 1000 to 10,000 units, with further reduction in unit cost for increased production."
It all sounds too good to be true. So we suspect it may be, pending further info from SCC at least.
In the mean time, we've asked SCC for details on how exactly they plan to bend the laws of physics quite that far.
By the by, Shelby Super Cars was founded by Jerod Shelby who is not a relation of famed petrol head, race car driver and founder of Shelby Automobiles, Carroll Shelby.
Update
Thanks to those of you who posted comments noting that Shelby's announcement now reads the Aero EV will recharge in ten minutes from a 220V socket - double the voltage the company originally quoted. Shelby's updated release also points out that the EV has two 500bhp motors. ®