This article is more than 1 year old
Sun to be eclipsed by Red Hat?
Market capitalisation trends suggest a spell in the shade
Silicon Valley's punditocracy are quite exercised by the fact that Red Hat could soon be worth more than Sun in market capitalisation terms - the latter's market value is trending down while the former's is trending up.
A chart (below) of January market capitalisation values shows this. At the moment Sun is capitalised at $2.77bn and Red Hat at $2.65bn, having moved apart from the previous day's closeness.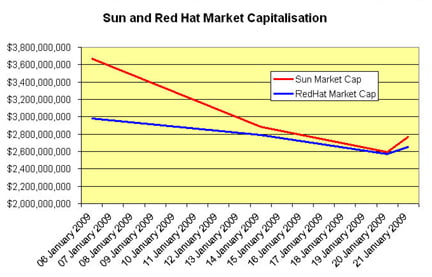 Sun and Red Hat market capitalisation trend in January 2009.
In revenue terms the two companies are markedly different. Sun revenues were $13.8bn in 2008 while Red Hat's were less than four per cent of this at $0.52bn. The stock market seems to be thinking that Red Hat's shares will be more valuable than Sun's, that Sun's earnings per share will trend down and that Red Hat's will increase.
There is an open source software support operation inside Sun - a quasi Red Hat - but it is dwarfed in revenue terms by Sun's hardware and systems business. It is perhaps instructive to compare IBM, which has also adopted open source software ideas, with Sun and ask why IBM's share price and capitalisation hasn't been so adversely affected as Sun's has been.
IBM has not given away the value farm by creating open source software stacks that cannibalise or replace its proprietary value stack sales. It is not creating an open source competitor to Domino/Lotus for example, or a storage offering equivalent to Sun's 7000 system.
Sun's idea is that the massed and growing ranks of developers will eventually translate into follow-on system, product and support sales as the developers' projects mature into systems used by businesses and public sector organisations. This is the faith, the mantra evangelised by Sun CEO Jonathan Schwartz. The promised revenue land has been a long time coming and has not yet arrived.
The recession, with customers prizing cost-effectiveness in IT more and more, may tip the scales in Sun's favour, as it promotes its products as less expensive to acquire and operate than competitors' products. It will amplify the adoption of Sun's open source products such as Open Office which, Schwartz estimated had a user base between 150m and 200m towards the end of November last year. He thinks there could be a billion Java runtime packages installed on PCs globally.
Sure, these numbers are huge, but are they enough? Obviously not yet. So how high do they have to be?
There must be a measure of how much revenue a Sun open source software download is worth to Sun - that number is not public and may not even be known. If it were known you could play around with the concept and run a spreadsheet what-if analysis looking at how many Sun open source software downloads will generate, say, $10bn of revenue.
So - if a single Java run time generates $0.01 of revenue a year then Sun would need 1trn (one thousand billion) Java run times to generate $10bn revenues. If each run time generated half a cent of revenue, then Sun would need 2trn downloads.
To be more realistic, what you would have to do is calculate the value of each Sun downloadable open source software product, sum them, and then play with the download numbers. Has any financial analyst done this?
For investors it appears that Red Hat's business model, how it makes its money, is transparent and understood, whereas Sun's is not. Investors do not understand how Sun will monetise its great base of downloading developers and users and Sun has not been able to clarify this quantitatively, relying on qualitative statements. That isn't having much effect. Investors are seeing a track record of comparative business under-performance and an opaque business model.
Sun execs believe in their story and faith can metaphorically move mountains. But it isn't having much effect on potential Sun investors. ®