Robot 'Spider-man' casts net to nab burglars
Catches thieves just like flies...
Updated If we brought you news of a new web robot then you'd probably think we meant a some form of online android, right? But a Japanese firm's developed the mechanical equivalent of Spider-man.
The T-34 is a four-wheeled security droid that fires a net at anyone who breaks into its patrol zone. The Spider-man style weapon envelops the intruder to render escape impossible - unless, we guess, they're equipped with scissors.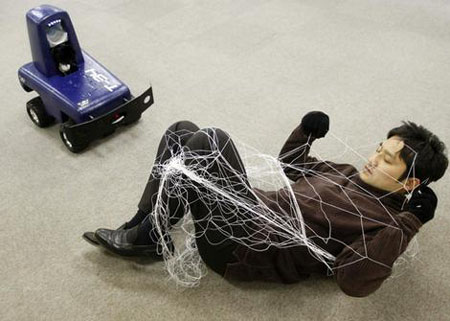 Catches thieves just like flies
Image courtesy of Reuters
A sound sensor alerts the T-34 to the presence of a potential burglar, at which point it'll notify a remote operator by mobile phone. The operator can control the droid's movements using their handset, and the T-34 can move at lightening speeds of up to 6mph.
Can't see the video? Download FlashPlayer from Adobe.com
A front-mounted camera lets the security robot snap pictures of the invader during the chase, which it then sends to the operator's mobile phone. Presumably these can then be used in the court case.
Plans to roll out the T-34 as a mechanised security 'bot in the UK haven't been announced. ®