World's smallest working fuel cell developed
Tiny cell creates tiny power
The world's smallest working fuel cell has been created. It measures a paltry 3mm across.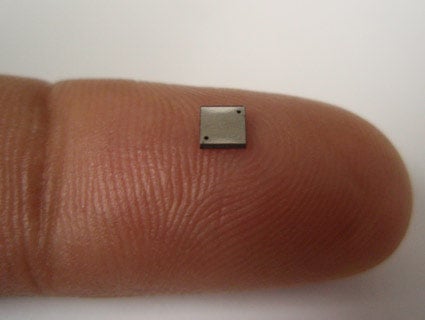 Generates 1mA of current
A researcher at the University of Illinois, where the 3 x 3 x 1mm hydrogen-fuelled "micro fuel cell" was developed, said it's able to generate power without consuming any itself, according to a New Scientist report.
Inside the fuel cell, a thin porous membrane separates a water reservoir from another containing metal hydride, below which is an arrangement of electrodes. Water molecules pass through the membrane as vapour and then react with the metal hydride to form hydrogen.
The hydrogen fills up the reaction tank, prevent more water flowing through. As the fuel's used up, the pressure on the membrane is eased, allowing more water vapour to enter the chamber.
Other pump-less fuel cells use gravity to push water through the system, but the new cell's so small, it can use surface tension instead. That allows it to work even if its position is altered.
But, you may have to wait a while for the first commercially available model, because so far it's only able to generate 1mA of electricity - hardly enough to keep your BlackBerry ticking over.
Horizon's fuel cell R/C car kit
In the meantime, you could amuse yourself by building a fuel cell-powered remote-controlled car. Firm Horizon has developed a system designed to fit into the original 7.2V NiCad battery slot on a Tamiya TT-01 R/C car chassis.
Three metal hydride canisters each contain 10l of low-pressure hydrogen gas and the design will be available to buy online in April. ®