This article is more than 1 year old
25 years of Mac - the good, the bad, and the cheese grater
Confessions of a dangerous fanboi
The Five Best Macs of All Time
Out of 300 to choose from, it's no easy feat to pick the top five. But here's my take:
Macintosh SE/30: It was January 1989, and even we dedicated followers of Macdom were getting itchy for an all-in-one Mac that was powerful enough to properly tackle chores that required more than the meager processing power of the Macintosh SE's 8MHz Motorola 68000.
Then the Macintosh SE/30 was released, and the Mac took its first steps into adulthood. At $6,500 when equipped with an 80MB hard drive, it was about as expensive as an IBM PC AT (SE's first appeared at around $2,900), but its 16MHz 68030 and 68882 FPU were worth it.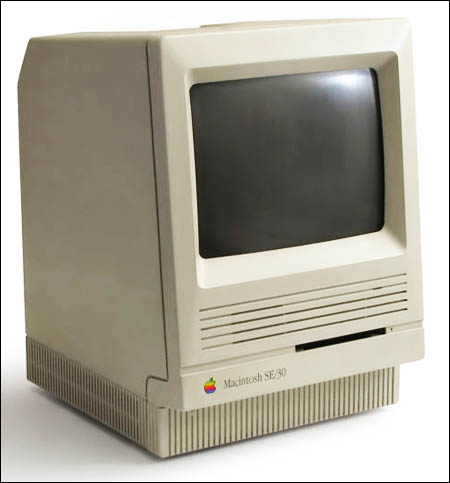 Arguably the finest Mac of all time 1
Macintosh IIci: Truly expandable Macs had first appeared in the form of the Mac II, also the first color-capable Mac, in 1987 - remember NuBus? - then rumbled along with the IIx and IIcx. All were competent machines, but the IIci nailed it, including built-in color, an optional L2 cache, and an under-the-hood improvement that few noticed but all benefited from: 32-bit-clean ROMs.
Along with the SE/30, the IIci was arguably one of the most popular Macs of all time. It even managed to worm its way into corporate environments - and deep into <sniff> the heart of many a Mactard.
Macintosh PowerBook 170: After the raving insanity of 1989's 16-pound, lap-busting Macintosh Portable, the PowerBook line's introduction in 1991 was a revelation.
It may be difficult to remember just how revolutionary the PowerBooks were, with their pushed-back keyboards and trackball pointing devices, but they were inarguably - okay, arguably, for Mac-haters - the best designed, most ergonomic laptops of their day.
Some might vote for the diminutive PowerBook 100, and some might prefer the color PowerBook 180c, but my PowerBook 170 traveled the world with me, jetting to Japan (and fitting on a coach tray table) and joining me in many a hotel bar for late-night article writing. I still have it. I still love it.
PowerBook G4: It took ten years until I again felt the same about a Mac. Those ten years were Apple's dark days of deservedly diving market share, customer-alienating product-line confusion, and - simply put - dozens of truly crappy products.
The titanium PowerBook G4, released in January 2001 and quickly known as the TiBook, joined 1998's iMac and 1999's Power Macintosh G3 (Blue and White) in proving that Apple was pulling its head out of its butt.
Sleek and powerful (enough), the TiBook pointed toward a future that wasn't going to be candy-colored - and would be smart. It had its flaws - WiFi reception sucked, for example - but it made Apple a player again among business folks.
Mac Pro: As a kid, I was the one playing with trucks. I've always had an affection for muscle (except, I hasten to add, in myself - I've never even seen the inside of a gym). I also have an affection for elegance. Otherwise, I'd satisfy my power hunger with a modded-up Windows box.
The Power Mac G5 was a muscular machine, but limited by its meager two internal drive bays and with cooling challenges that, for example, make it impossible for me to do live-mic work on the dual 2.7GHz Power Mac G5 in my home studio due to its heinous fan noise.
The eight-core Mac Pro, first released in April 2007, when equipped with an added hardware SAS RAID card linked to its four internal drive bays, solved those two problems. It's both gutsy and quiet. Now all that we muscle-lovers need to do is wait for Snow Leopard's OpenCL and Grand Central-based multicore support to get our Mac Pros fully up to speed.
Runners-up: Apple's short-lived Network Server 700 from 1996 may seem an odd choice to include even as a runner-up, seeing how it was a market failure - but this AIX-running, seven-bay, DAT-equipped baby was a beaut.
As I mentioned above, the Power Mac G5 had its faults, but this quasi-steampunk cheese grater was a big step in the right direction. One of its predecessors, 2001's Power Mac G4 (Quicksilver), also deserves mention, as does the oft-maligned eMac, which provided the education market with a decent amount of affordable power tucked into its bulbous body.