This article is more than 1 year old
NASA working on boomless supersonic jets
And contrived acronyms
NASA has announced the completion of a series of flight tests aimed at reducing the "sonic boom" effect, one of the major downsides of supersonic aircraft.
Two custom-modified F-15 fighter jets were used in the test programme, referred to by NASA as Lift and Nozzle Change Effects on Tail Shock (LaNCETS*). Flying faster than sound, the lead F-15 used its custom-fitted canards (small winglets ahead of the main wings) to modify how much lift was generated by the main wing; it also changed its engine nozzle configuration.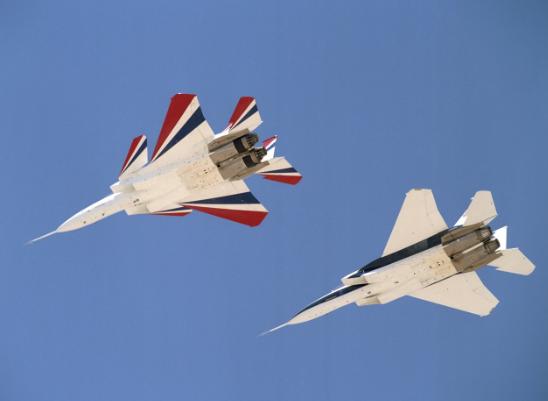 NASA's pimped-out Eagle test birds.
These changes altered the conical shockwaves trailing behind the plane, measured by the second F-15 using nose-mounted sensors to probe the wake of the jet just ahead. It is this shock front, trailing behind a supersonic aircraft, which produces the loud "sonic boom" when it hits the ground. The boom produced by Concorde was sufficient that the mighty Mach-2 airliner was largely restricted to subsonic speeds when over land, and meant that the London-New York route was the only one it could routinely serve.
Nobody is really planning another supersonic airliner right now: but some US makers think there would be a market for supersonic business jets, able to whisk billionaires and CEOs from continent to continent faster than today's plutocraft. But they wouldn't be much use if they couldn't go supersonic over land.
Hence the desire for boomless (or anyway, less boomy) supersonic flight. NASA has been working on fundamental research for a while, aiming to help the US aviation industry crack the technical issues. One recent effort, for instance, saw Gulfstream "Quiet Spike" nose poles fitted to NASA jets, to see if the shock cone from the spike might mask or mitigate the noise from the rest of the aircraft.
The just-completed LaNCETS effort uses a different approach, looking to find out just how different lift loads and engine nozzle shapes affected the shape and intensity of the shock cones behind a plane. The chase F-15 used differential-GPS augmented satnav kit to measure its position with respect to the lead craft exactly, allowing the sensor readings to be precisely mapped into a 3D database.
The test results "will be made available to interested university and industry partners in order to further their research objectives", according to NASA. ®
*Pah. We'd have gone with Supersonic Flight Acoustics Testing Centred on Advanced Transportation for the Superwealthy (SuperFATCATS for short).