The difference is striking, and makes you wonder how you could live with it switched off. Our digicam snaps don't really do it justice. Take the opening to the recent movie Sleuth. It opens with black screens lit only by pencil-thin white lettering. In a nearly dark room, where you'd expect to see plenty of backlight spilling through, the black parts of the screen are impressively dark. The white lettering is brilliantly lit, sharp and clear. All very good to see.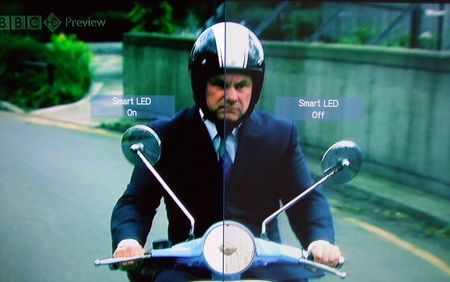 It's true that the area around the lettering has a dark grey glow, as these letters are smaller than the LED arrays. This isn't ideal, but once the credits finish and the movie begins, the deep blacks are strong and effective. At times it's hard to believe you're not watching a plasma.
Michael Caine's dark suit shows gradations from LCD grey through to plasma darkness, the Apple remote in his hand is gleaming white, the light bouncing off his forehead like a soup tureen. Every detail stands out, not only because it's a good HD print, but also because the screen is rich in its delivery of detail and the Smart LED system adds to this.
Or take the BBC HD broadcast of Obama's inauguration. Here, Smart LED delivered sharper, brighter colours, sunnier, bluer skies, more defined outlines and crowds that were picked out in seemingly greater detail. At no point would the picture have been as good with Smart LED turned off.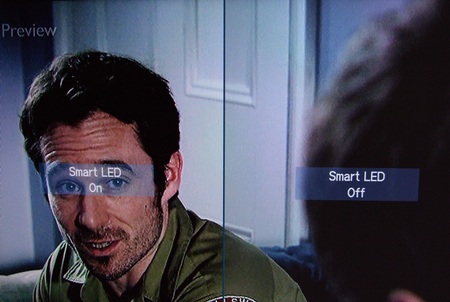 Colours were subtle and convincing, pastels and muted neutral tones rather than the over-bright hues some LCDs, including some earlier Samsung models, have as a default setting, although if you miss it, just turn the picture mode from standard to dynamic, where the colour saturation is considerable.