This is the standout feature, then. It's certainly worth switching this feature on, assuming you can find it. Although you might expect such a big deal to be front and centre, you have to go deep into the picture control menu and through to further picture options to switch it on. There's also a demo setting where the right half of the screen shows you what the picture's like with the system off, while the left half has it on.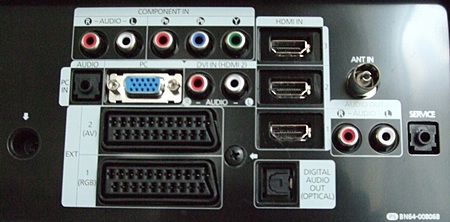 Round the back, it's well connected
Perfect, it isn't - there are black bars at the top and bottom of the screen for this movie, and if the edge of shot is dark then the bars are pitch black. But when there's something bright at the edge, there's a fair degree of light spill. But, let's face it, unless you have a home theatre so dark you need to employ ushers, most of us will use a TV like this in a reasonably well-lit living room. And in such an environment the grey overspill isn't noticeable. What's more, in a brightish room even the best plasma will really struggle.
Beyond Smart LED, there are a couple of other elements to consider. The remote control, though appealing in its gloss black finish, doesn't help when you want to go straight to an HDMI channel. You have to scroll through the AV inputs one after the other. Many TVs display a list of AV inputers at the press of a button, but not this one, sadly. This is the remote's only fault, mind, and it's otherwise good to use.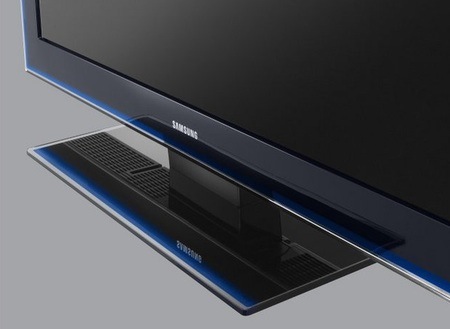 Swish with a capital 'swish'
Connectivity is strong, with four HDMI sockets - three on the back and one easy-access socket for a camcorder, say, on the side - two Scarts and the usual other suspects: component, composite, USB and so on.
Verdict
If we've harped on about the picture quality being good, it's because it is. HD imagery comes over very well thanks to the array of LEDs, and this on its own, without the delights of a palatable screen frame, decent sound and largely accessible buttons, would make the Samsung worthy of your consideration. ®
More HD TV Reviews...
| | | | |
| --- | --- | --- | --- |
| Philips 42PFL9903H | Hitachi UT32MH70 | Philips 42PFL9603D | Pioneer Kuro PDP-LX5090 |

Samsung LE40A786 'smart LED' 40in LCD TV
Ocean-cool, glossy looks and an outstanding picture make this Samsung highly desirable.