Nokia N79 smartphone
Change for change's sake?
There's no change to the screen, but then there wasn't much need. At 2.5in is size 320 x 240 in resolution and 16m in colour-depth it's big enough and clear enough to beat virtually anything in its class. It's a different kettle of pixels from the likes of the iPhone or HTC's widescreen touchscreens of course, but if it's standard handset dimensions you're after, then this is one of the very best. The on-board accelerometer is nice and nippy too, flipping the resolution from portrait to landscape within a second or so, with a nice little animated graphic to boot.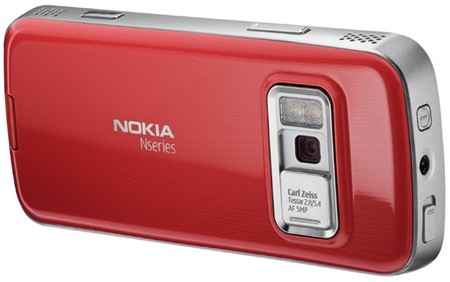 Twin LED flash
Unfortunately, the keypad beneath the screen is a bit of a disappointment, even if it does improve on the N78's tiny set of button. It's a natural temptation with do-it-all smart phones to cram in as much functionality as possible and so it is here. Nokia has shown that it can do this on other handsets, but the N79 has a sleek plastic sheen which doesn't allow for easy distinction of the keys. The bottom three keys are only just about squeezed onto the front of the handset, so pressing them your thumb while balancing the phone in the same hand isn't as easy as it should be and becomes an outright pain when texting.
The large square navpad is also a touch-sensitive wheel, though this element can be disabled if you prefer. It's flanked by sliver-like call start and stop buttons, two soft-menu keys and a dedicated key to enter Nokia's carousel menu, which flips between the most popular features.
Around the sides are the camera shutter button, a volume rocker, stereo speakers, 3.5mm headphone jack, a keypad lock slider and a flap which covers both the USB port and the Micro SD card slot.
Around the back, the Carl Zeiss Tessar lens is hidden behind a sliding cover which also launches the autofocus-equipped camera. It takes about two seconds to kick into life, which is reassuringly quick, and Nokia's impressive range of pre- and post-pic adjustments and options are provided in full. The digital zoom goes up to a ridiculous 20x.
The burst mode will take up to six shots at time and there's a continuous timer that will take a picture at regular intervals for as long as you have memory, from every ten seconds to every half hour. The N series' post-pic editing suite is a powerful tool which includes resizing, cropping, rotating; eliminating red-eye; adjusting contrast, brightness and sharpness; and adding text, clip art, frames and tonal effects.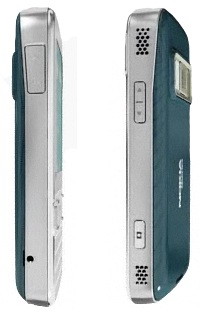 Twin speakers
Pictures are certainly a cut above the usual camerphone fare, easily rivalling some of the 8Mp efforts we've seen recently. Video is captured at 640 x 480 and 30f/s, and is noticeably smooth compared with the majority of video cameras on cameraphones. Once you've taken them, your snaps can easily be uploaded to sharing sites such as Flickr, Friendster, Facebook and Nokia's own Ovi.