Nokia N79 smartphone
Change for change's sake?
Music is well supported and, like the N78, the player includes not only Nokia's impressive FM radio but also an FM transmitter which allows you to play your phone's music through a car radio. The stereo speakers put out a fair sound, and the supplied headphones are pretty well balanced too, if a tad bass-lite. They include a control clip that lets you skip tracks and adjust the volume while keeping your phone in your pocket. The music player supports cover art and podcasts, plus you can use your phone for other stuff while listening to music.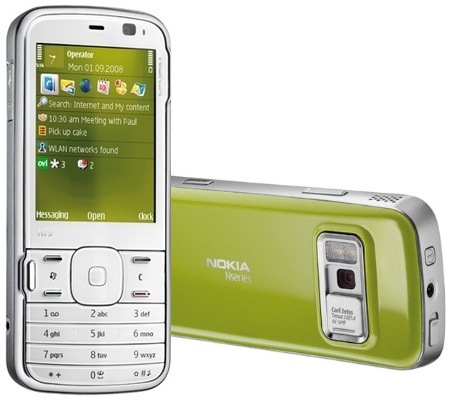 No, we're not sure about the green version, either
The N79's Assisted GPS system is accompanied by Nokia's Maps app and comes with three months' satnav-style voice guidance. Maps now includes satellite views, as per Google Maps, which, this being a Symbian S60 handset, you can also download, along with thousands of other apps.
The browser is nothing special for those of us who've got used to the big touchscreens from Apple and HTC, but quick web access, easy zooming and landscape viewing all add up to make the N79's browsing experience mostly harmless.
Nokia's N-Gage handset may not have caught the public imagination, but the games themselves are generally very good, with rich graphics and features, including multi-person gaming both online or over a Bluetooth link. There are trial versions available for a dozen or so games, though the full versions, at around £8, aren't cheap.
Battery life was very good for a smartphone and we managed a good three days of moderate use. There are energy-saving options available such as switching off Bluetooth and Wi-Fi and reducing the screen brightness, though this is also adjusted automatically according to a reading taken by the phone's ambient light detector.
Verdict
The N79 seems to have followed the N78 with almost indecent haste, which is sure to irritate some, but the advantages are obvious – 5 megapixel camera, increased memory and battery life, plus N-Gage games. It's well worth getting, but if you take the plunge now, keep your fingers crossed that the N80 won't get here too soon. ®
More Nokia Phone Reviews...
| | | | |
| --- | --- | --- | --- |
| N96 | 5800 XpressMusic | 6600 Slide | N82 |

Nokia N79 smartphone
Nokia's smallest N-series phone yet packs in 5Mp camera, A-GPS, N-Gage gaming and an FM transmitter.
Price:
Contract: From free. Handset only: £315 RRP