Humvee with frikkin laser on it takes out killer robot
'When did we start beaming again? I nodded off'
US aerospace leviathan Boeing was delighted yesterday to announce that its Humvee-mounted "Laser Avenger" deathray weapon had shot down a small drone aircraft.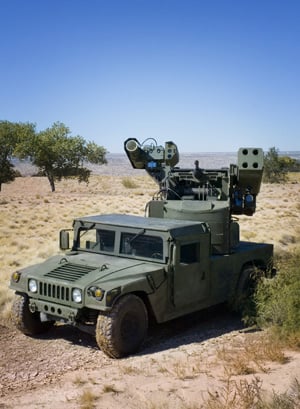 Don't come in sight of me, robot. Well, not for too long.
According to Boeing:
Laser Avenger achieved its principal test objectives by using its advanced targeting system to acquire and track three small UAVs [Unmanned Air Vehicles] flying against a complex background of mountains and desert. The laser system also shot down one of the UAVs from an operationally relevant range. These tests mark the first time a combat vehicle has used a laser to shoot down a UAV.
The Laser Avenger, in which a laser weapon is added to Boeing's existing Avenger gun'n'missile anti-aircraft system, had previously suffered from a reputation for being a bit feeble. The best it had done to date was to cook off improvised bombs and unexploded shells lying stationary on the ground.
But Boeing say the Laser Avenger now kicks coherent-light arse.
"We doubled the laser power, added sophisticated acquisition, tracking and pointing capability, and simplified and ruggedized the design," says Lee Gutheinz, Boeing program director for rayguns.
"Boeing developed and integrated these upgrades in less than a year, underscoring our ability to rapidly respond to warfighters' needs."
As to just what need America's warfighters* have for a Humvee blaster-ray, Boeing veep Gary Fitzmire says they're absolutely crying out for one.
"Small UAVs armed with explosives or equipped with surveillance sensors are a growing threat on the battlefield," he insists. "Laser Avenger, unlike a conventional weapon, can fire its laser beam without creating missile exhaust or gun flashes that would reveal its position. As a result, Laser Avenger can neutralize these UAV threats while keeping our troops safe."
Hmm. Actually, Western troops in combat right now mainly get killed and injured by nice simple landmines and roadside bombs, or by scarcely more sophisticated rockets and mortars lobbed into their fortified base camps and outposts. They might indeed be pleased to have a laser which would shoot down Katyusha rockets in flight, for instance.
So we can take it that Laser Avenger can't do that, or Mr Fitzmire would have said so. It would be interesting to know just how long the Laser Avenger had to hold its beam on the UAV before it finally managed to bring the robo-drone down. ®
*We know, it's a nasty word. But it's the one everyone uses on the US deathtech beat. Bit less cumbersome than "America's fighting men and women", not as un-PC as "Our Boys".