DAB growth turns negative
Flat lining
Sales of DAB radio have reached an unwelcome landmark, figures published this week reveal. Sales fell 10 per cent in the final quarter of 2008, compared to 2007, Ominously, this is the first ever quarter of year-on-year negative growth since DAB sales figures were first published six years ago.
The brutal year-end retail environment saw sales of consumer electronics fall across the board, prompting the DAB marketing lobby group DRDB to declare that "DAB Radio weathers the retail storm at Christmas", in a press release yesterday. Yet what the release didn't say is that all the growth was in the earlier months - full 12 month sales were only 3 per cent up on 2007, and the landmark negative final quarter didn't merit a mention in the release.
This caused some confusion for the Guardian newspaper, which even in its haste to re-write the marketing lobby's press release, couldn't decide whether the news was good or bad.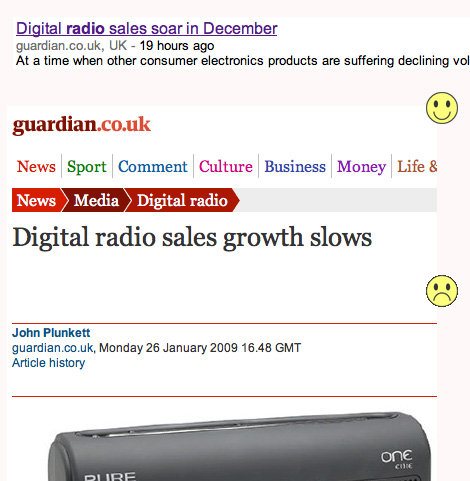 What's not in doubt is that 2008 ended far short of forecasts. In 2004, the DRDB predicted last year would close with the cumulative total of sets sold in the UK at 13.1m. At the start of the year, this was predicted to be a more modest 9 million. In fact, 2008 ended with 8m sets sold to date, with 2m added in the year - the same as 2007.
The DRDB no longer issues long range forecasts of sales.
The future isn't what it used to be
What does this mean for the bigger picture - the penetration of DAB into households and cars, and where does this leave the mix of analog and digital?
Well, sales of analog radio sets fell 7 per cent, according to the DRDB. But it's a long, hard slog to get to 30 per cent household penetration - and the 50 per cent figure is now a long way in the distance. As DAB becomes more of a bore and less of a draw (it's no longer a novelty, and as stations are pulled, there's less choice of listening), manufacturers must increasingly rely on. That's a nice idea, but it also means DAB is increasingly viewed as an optional feature of another product category, and that in turn means it's less likely to be viewed as a straight replacement for the old FM radio in your kitchen or the bathroom.
Making headway in cars or on mobile phones would help enormously, but because DAB is such an antiquated technology, that's another uphill battle.
Meanwhile Niall, taking issue of our use of "DABetamax", writes:
Mr Orlowski,   I am slightly confused by your use of the term Betamax here.  Is it that you believe DAB to be the technologically superior option pummelled by the marketing of a lower quality rival?  I certainly see no evidence of this in your article.  I shall be cancelling my subscription forthwith and... (cont. p91)

Concerned of Tumbridge Wells
Point taken. ®