Dell posts user guide for unseen tablet
Whoops
Dell has published the service manual for an upcoming tablet PC on its website.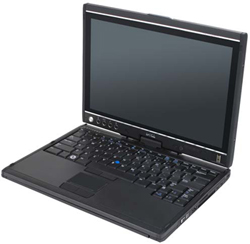 Dell's Latitude XT2 tablet PC
Presumably designed as the latest update to its existing Latitude XT tablet range, a whole host of specifications for the previously unseen XT2 have been published alongside drawings and photos of the machine itself.
The XT2 sports a 12.1in, 1280 x 800 screen that's able to twist by up to 180° and turn the machine into a pen-operated tablet PC.
An ultra-low voltage Intel Core 2 Duo processor hides under the XT2's shell, with integrated Intel GMA X4500 graphics and the capacity for up to 5GB of DDR 3 memory.

Tilt and swivel
In addition to an ExpressCard 34 and SDHC card slots, the tablet also has Wi-Fi connectivity and an Ethernet port. Two USB 2.0 ports are built in, but Bluetooth and a biometric reader will all be optional extras.
The machine measures 297 x 218 x 25mm and weighs in at 1.6kg when equipped with its four-cell battery.
Unfortunately, the only details that Dell 'forgot' to publish was the XT2's launch date and price. ®