Fraunhofer boffins tout new 'diamondballs' mech tech
Germans dip ball[bearing]s in liquid bling hardness
German boffins at the famed Fraunhofer Institutes - developers of mp3 audio compression, among other things - are now working on another critical technology. To wit: bearings covered in ultrahard coatings of artificial diamond.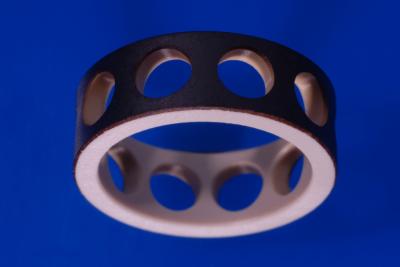 Slick as ice.
The remorselessly efficient brainboxes of the Fraunhofer Institute for Mechanics of Materials (Institut Werkstoffmechanik, IWM) in Freiburg call their new gemstone-dip DLC, for Diamond Like Coating.
"Thanks to this coating, we can produce components that are much more robust than conventional elements," says IWM's Dr Sven Meier. "The coated bearings remain sturdy even if they are not sufficiently lubricated or if they run dry... Our coating method is also suitable for geometrically complex parts, such as bearing cages."
Makers of fancy mechanical watches have long used bearings made from jewels, in modern times often artificial sapphire - but diamond has been used too. The idea here is to reduce friction and so make the watch more accurate as much as to increase the bearings' life. That application, however, is becoming more and more irrelevant in an era where much more accurate quartz watches are cheap - and mobile phones can often read sat nav or internet time signals.
But the Fraunhofer lads are aiming at much wider application. They can already coat individual plastic ball-bearings in a sphere of hard, tough diamond as much as 0.02 millimetres in thickness: and they reckon to apply their process to other materials soon. The IWM statement mentions "bicycles, slide bearings in the crankshafts of ships, or high-performance bearings in motor sports".
They do admit, however, that at the moment the "precious coatings" involve "high costs". It would seem that for now a diamondball-bearing, while better than a soft golden one, might cost at least as much. ®