Apple awarded iPhone patent
All the elements brought together
Apple has been granted a patent for touchscreens and related technologies, many of which have been combined to make up the iPhone.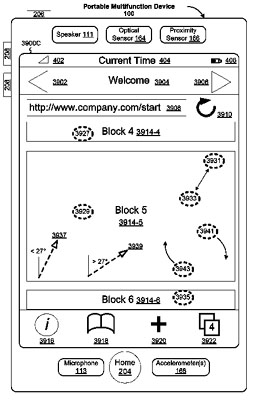 It sure looks like an iPhone
Patent number 7,479,949 is very abstract and wordy, yet covers a "touchscreen device, method and graphical user interface for determining commands by applying heuristics".
The patent never refers to the iPhone specifically, but mentions many features and functions found on the phone. For example, on-screen finger swipes, a touchscreen with GUI, and "telephoning, video conferencing, e-mailing [and] instant messaging" functions.
Interesting snippets also suggest that Apple may have more features planned for the iPhone - and we're not talking about a Nano model. For example, the patent mentions "digital videoing" and a "blogging application".
Poorly Steve Jobs is named as an inventor on the patent, which was applied for in April 2008 but only granted seven days ago.
What Apple will do now it has the patent remains to be seen. But it's worth remembering that Apple's acting CEO, Tim Cook, said only last week that it won't stand to have its intellectual property ripped off. He promised to use whatever weapons the company has at its disposal to fight those that do.
So will Apple use this patent as a means of protecting itself against the likes of Palm's upcoming Pré? Only time will tell. ®