ISS astronauts lose 'alarming' amounts of hipbone strength
Help! I've fallen and I can't get geosynchronous!
Humanity's conquest of the stars may never arrive by the jaunty strides of a Flash Gordon or Dan Dare. Alas, Earth's future finest will likely hobble out the pod bay door on feeble old-lady hips.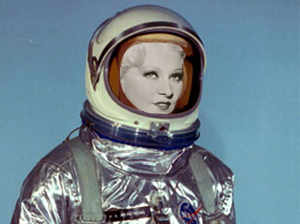 My dream of Mae West in space is ruined!
Spending extended time in microgravity has long been known to cause a loss in bone density. But a new study by researchers from Universities of California at Irvine and San Francisco suggests the deterioration may be worse than previously thought.
The research evaluated 13 astronauts who had spent four to six months at the International Space Station.
On average, astronauts' hipbone strength decreased an "alarming" 14 per cent, the study reports. Three of the astronauts lost as much as 20 to 30 per cent of their bone strength during space flight, putting them on par with elderly women with osteoporosis.
"If preventative measures are not taken, some of our astronauts may be at increased risk for age-related fractures decades after their missions," said study leader Joyce Keyak.
The research differs from previous studies by specifically looking at bone strength rather than bone-mineral density. Based on 12 male and 1 female ISS crew members, decreases in bone strength measured from 0.6 per cent to 5 per cent for each month aboard the ISS - considerably more than the loss of bone-mineral density of 0.4 per cent to 1.8 per cent observed in previous studies of the same subjects.
According to researchers, the hip experiences the greatest rate of bone loss in space and fractures almost always require hospitalization and surgery.
The NASA-funded study appears in the online version of the trade journal Bone - a publication that we're sure gets a lot of late-night traffic from highly disappointed internet users. ®