Edifier Luna 5 iPod speaker
The balloon beats the Zeppelin?
Review MP3 player speaker rigs aren't exactly rare these days, but they have an annoying habit of falling into two categories. On the one hand, you have the 'sounds great but blow me its expensive' devices such as B&W's Zeppelin. On the other, you have nasty little 80-quid plastic boxes that have all the audio fidelity of two empty baked bean cans tied together with a length of string and the visual appeal of a breeze block.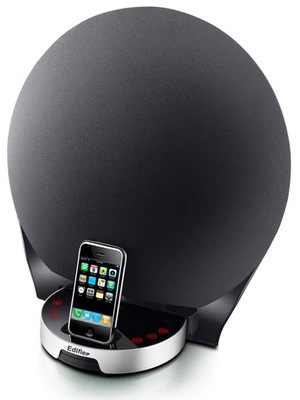 Edifier's Luna 5: the moon's a balloon?
Whither the middle ground? Well, right here with the Luna 5, reckons manufacturer Edifier, creator of the very fine MP300 Plus set of 2.1-channel laptop speakers.
When we saw the Luna 5 on the Edifier stand at the Consumer Electronics Show, we were mightily impressed both with its styling and build quality and we're happy to say that after a prolonged poke and fiddle with the finished item, we continue to be impressed.
Standing at 490mm tall, 370mm wide and 240mm deep, the 4kg Luna 5 may not be exactly small, but its form is one of the more space-efficient ways to package a reasonable numbers of speakers - in this case a 14.6cm woofer, two 7cm mid-range and two 6.3cm tweeters - into one unit.
The semi-circular iPod dock at the front is attached to the main unit by an articulated, "floating" connector that isolates the dock, and any hard disk-based iPods sitting thereon, from the low frequency vibration cause by the woofer.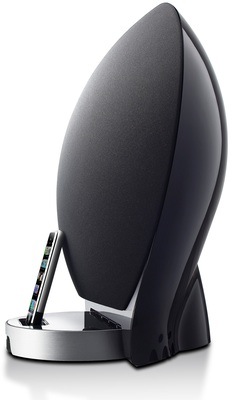 There are five speakers in there
The black lacquer finish of the main unit has a deep and lustrous shine, and we looked in vain for any rough edges or mould seams. The brushed metal surround of the dock housing adds the finishing touches to a device that should look right at home in any front room or study.