This article is more than 1 year old
Sun goes eco-friendly with data center compression
Finally, value from StorageTek
Sun Microsystems has been showing off it knows how to build an eco-friendly, efficient data center in the hope it can scare up a little business helping other companies cope with their own inefficient centers.
The server and operating system company has done this as it moves and consolidates a center that it inherited through its $4.1bn StorageTek acquisition four years ago.
If this isn't eating your own dog food, then is at least living in its own dog house. And, not coincidentally, it's trying to get out of the dog house with Wall Street by cutting costs and moving in the direction of profitability.
StorageTek was founded in the suburbs of Denver, Colorado, in a burg called Louisville, and Sun just coincidentally had offices of its own a little bit down the road in Broomfield. Both companies had about 4,000 employees in the area, according to Mark Monroe, director of sustainable computing at Sun, with the facilities about two-thirds full. By using teleworking, Sun was able to fill up the Broomfield campus. (There have, of course, been some layoffs that create room too).
StorageTek had its big data center in Louisville, which was used to run its operations as well as for development and testing of its disk and tape products. Sun could not leave the data center there because it sold the facility to oil giant ConocoPhilips a year ago in order to raise cash - $58.5m in this case. ConocoPhilips will be using the Louisville campus as an energy research center focusing on for fuel cell, solar, wind and clean diesel power.
In the past eight months, the StorageTek data center, which was weighed in at 496,000 square feet, was consolidated onto three floors of an office building in Broomfield. This is the largest data center consolidation project Sun has ever done, according to Monroe. The StorageTek facility had 165,000 square feet of raised floor space, and by ditching old servers that require raised floors, Sun was able to compress this down to 700 square feet. The raised floor part of the data center is necessary to support some mainframes and big Sparc iron.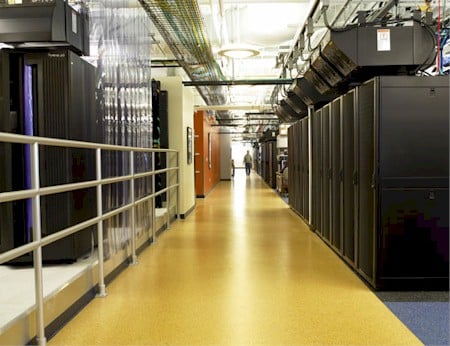 Sun squeezes into Broomfield
The new Broomfield data center has been equipped with Sun's latest Sparc and x64 servers, including T2000 and T5440 (Niagara), X4600 M2 (Galaxy), and M5000 (Fujitsu) servers and its 7000 series of unified storage servers.
The density of these boxes has allowed Sun to cram all the computing that the storage division needs into 126,000 square feet of space. About 11,000 square feet of that is to run applications that are part of Sun's back office operations; the rest is for development and engineering work.
Sun says that building as much raised floor space as StorageTek had would have cost it $4m in the Broomfield center, which it characterized as savings. But if you think about it, Sun didn't really save that money because as Sun so correctly demonstrated, modern servers don't need raised floors. The data center has a seven megawatt capacity that can be boosted to 10 megawatts if needed.