2TB drives arrive down under
Western Digital's Caviar Green model
Unable to prevent stocked Australian suppliers releasing details, Western Digital has effectively pre-announced its record-breaking 2TB Caviar Green drive.
A Czech website listed the drive before Christmas.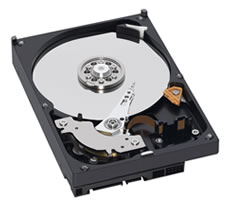 The WD20EADS is a 3.5-inch, 4-platter unit spinning at 7,200rpm with a 3Gbit/s SATA interface and a 32MB cache. It is positioned as a low power, quiet and very high capacity drive for PC users. The low power draw is obtained by parking the head when not in use, using the 32MB cache to reduce the number of disk accesses needed, and reducing the rotation speed where possible. WD says the power savings results in the same reduction in emitted CO2 as taking an average car off the road for three days a year - insignificant at the individual user level but tangible at the organisational level where many PCs are involved.
WD says external drive manufacturers can eliminate the need for a fan in a product with this drive.
Seagate has introduced a 2-platter 1TB 3.5-inch drive so its own 2TB model can't be too far away.
Australian outlets have the drive available at prices ranging from $Aus 377.80 - $Aus 429 (£178 - £203). European and US availability cannot be too far behind the antipodean availability. Western Digital was unable to comment immediately and traditionally does not respond to rumour or speculation. ®