F1 chiefs ready post-prang battery safety scheme
Helping track marshals avoid zaps after shunts
'Leccy Tech The introduction of KERS - Kinetic Energy Recovery Systems - into Formula 1 has not been without mishap. There was a battery fire at Red Bull, and a BMW engineer received a nasty electric shock during a test at the Jerez circuit in Spain.
Now F1 safety supremo Charlie Whiting has announced that track marshals will be issued with gloves that will be "good for 1000 volts" and that cars will be fitted with warning lights so that anyone approaching a stricken F1 racer will be able to see if the KERS has shorted out.
Presumably the subtle odour of frying driver will be another give away.
KERS components will also be clearly colour coded so anyone finding them lying by the side of the track will know what they are about to pick up.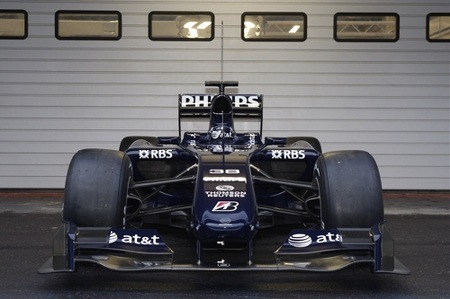 Williams' F31: real men use flywheels?
In an interview with F1.com, Whiting goes on to say that a KERS Safety Working Group has been set up, chaired by BMW.
"They've met quite a few time," he said, "and they've come up with a long list of suggestions, parts of which have already become regulations, and some of which will form the basis of a comprehensive document we'll circulate to all circuits and tracks hosting a grand prix."
No matter how comprehensive the document, the lingering fear of a massive electric shock is hardly likely to encourage marshals to race to the aid of drivers who have just had a major shunt. After all, just how sure would you be that a 150mph impact hasn't also put the kibosh on the KERS warning lamp?
Of course, none of this worries the lads at Williams F1 as they alone seem to have opted for a flywheel-based system. All they now have to worry about is a kinetic storage device rotating at an unimaginably high rotational velocity ripping loose and flying off into the wide blue yonder like a frisbee from hell.
Toyota has already said it has no plans to run a KERS device at the start of the season and will only introduce one later in the year if it sees clear performance advantages in doing so. ®