Unveiled: love tutor headphones
Shag-nav
Sex toys have been around for years, but one's now available that the manufacturer's promised will boost your performance in bed and help overcome the dreaded brewer's droop.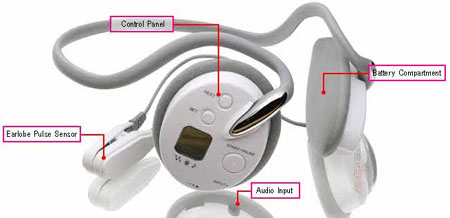 LoveTrainer: boost your bedroom performance with narration and music
The LoveTrainer's essentially a pair of sporty headphones with an attached heart-rate monitor that fixes to your earlobe. This dictates the "sensual voice narration, dynamic rhythm and music" pumped into you during rumpy-pumpy.
For example, if you're going at it hard and fast then you'll hear fast-paced music and positive, driving narration, such as - and this is really what it says - "You are making love at a very good pace."
But if you're not up to the job then the music's pace will slow and you'll hear messages like: "Your stamina will be evaluated." If you get too slow, you'll likely hear: "Please confirm the heart-rate sensor."
LoveTrainer's also got a built-in safety system. If you try too hard then you'll be told that "making love a bit more gentler would be perfect".
Eventually, as she trots off to the bathroom and you reach for the tissues, the LoveTrainer will say: "Well done! Let's make love more regularly."
The gadget will never be a wasted investment, either. Because even if you and your partner grow tired of nocturnal nookie, the cans feature an audio input so you can use them like regular headphones.
LoveTrainer is available now online for $80 (£56/€60). Batteries not included. ®