Mitsubishi to unveil i MiEV Sport Air at Geneva Motor Show
Vapourware?
'Leccy Tech Mitsubishi has dusted off its i MiEV Sport concept for the upcoming Geneva Motor Show and called it the i MiEV Sport Air.
Out to impress fans of Apple's skinny laptop, perhaps?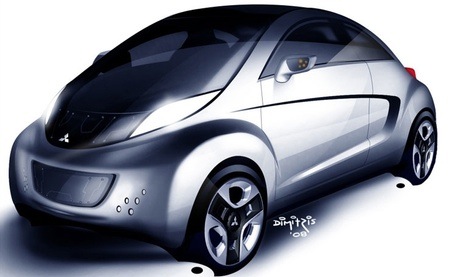 Mitsubishi's i MiEV Sport Air: concept today, reality in March
Whatever, something very similar was shown at the Tokyo Auto Salon on 2007, but since then the i MiEV has gone from being a twinkle in its father's eye to a production-ready electric runabout. Mitsubishi has announced a dedicated 'leccy production line that will open in 2011 with an output capacity of 20,000 cars a year. It's also set up Lithium Energy Japan, a battery making joint-venture with GS Yuasa.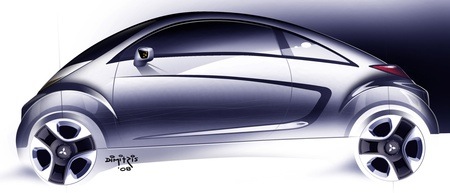 Air today, gone tomorrow?
Assuming the Sport Air uses the same running gear as the regular I MiEV rather than the four in-wheel electric motors of the 2007 concept, we will be looking at a maximum power output of 47kW (63bhp) and 132lb ft of torque from a single electric motor driven by a 16kWh lithium-ion battery back.
Top speed is said to be 80mph and the effective range on a full charge is 100 miles.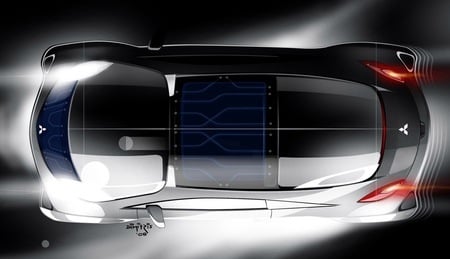 Roof-mounted solar cells distinguish the Air from...
The only significant exterior difference between the Sport and the Sport Air is the addition of some solar cells on the roof and bonnet.
European availability of something not a million miles away from the Sport Air may be closer than you think as earlier this month Mitsubishi announced an agreement to sell re-badged i MiEVs in Europe through Peugeot Citroen.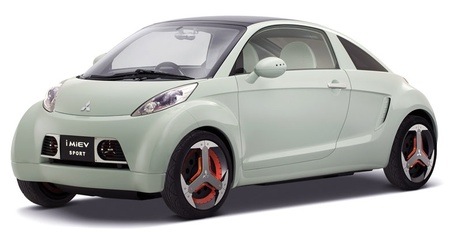 ...2007's i MiEV Sport
According to Mitsubishi, the company plans to sell 2000 i MiEVs 2009, rising to 4000 and then 10,000 in the following two years. From 2011, it plans to make more than 10,000 vehicles on behalf of the French group. ®